Have you ever had an annoying kink in your neck? How about an achy back from sitting all day or sore heels from walking the Ravenel Bridge?
Have no fear, Family Physical Therapy is here to help you with all of your chronic pain needs – from simple yet pesky headaches to more serious problems such as osteoporosis and surgery rehabilitation. If you've got a pain problem, Becky Naylor and her band of physical therapists can surely pinpoint the source and help get you back on track to a stronger, healthier existence.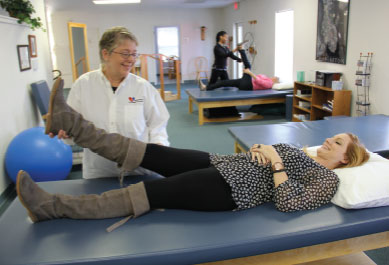 Naylor has been serving the East Cooper area with her rehabilitation and physical therapy skills for 24 years. She opened her own outpatient clinic, Family Physical Therapy, 15 years ago. But who, exactly, needs the help of a physical therapist?
"Many people think you have to have a stroke or be in a bad accident to come to a physical therapist," Naylor said. "What they don't realize is that physical therapy can help a lot of chronic problems, such as fibromyalgia or shoulder pain from doing yard work."
"If you walk a lot, you may develop pain in your heels and ankles over time," Naylor added. "It takes a therapist to be able to balance what's tight, what's weak and how to move and function properly."
Naylor noted that her clinic caters to women who have just given birth. Physical therapy can help reduce swelling in the legs, strengthen weakened muscles, improve posture and help heal the wear-and-tear that comes with pregnancy. "Women are often the main caregivers," Naylor said, "so they need to learn good strengthening exercises as well as good body mechanics so they can provide care for their children as well as care for themselves."
Many people think of physical therapy as a treatment for obvious issues such as rehabilitation from orthopedic/ musculoskeletal surgery or major disabilities. Naylor stressed, however, that her skills provide aid for pain problems that fall at both ends of the spectrum.
"We help patients in all sorts of pain areas here, from post-mastectomy healing to simply helping someone regain their balance and strength or alleviating the pain of arthritis," Naylor said. "Physical therapy, in the long run, can help make it safer for patients to do daily activities."
The beauty of Naylor's work is that it isn't just a temporary solution for a chronic problem. She finds the source of the pain and comes up with a plan of action that eventually will help eliminate the hurt altogether.
"The most rewarding part of my job is that the patient feels encouraged because they're getting to the root of the problem that is causing their pain," Naylor commented. "They become in control of what's going on so they don't have to rely on medication anymore."
The best way to take care of yourself is to take an active role in your health. The philosophy behind Family Physical Therapy is that you should never accept the idea that you have to live with pain or give up activities you enjoy because of it.
If you recognize that you have a problem, contact Naylor and her team of experts, and they will work with you to find the solution to getting you up and running again. Family Physical Therapy is located at
863 Coleman Blvd. in Mount Pleasant. For more information about eliminating your pain,
call (843) 881-8887.