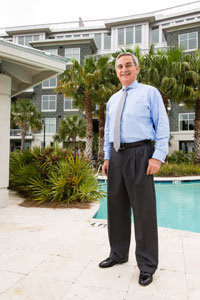 It's a bit unusual when people elect to purchase a home in the exact same complex where, years before, they rented a one-bedroom on the fly. Jim Newsome, president and CEO of the South Carolina Ports Authority, and his wife, Kathy, did just that.
"When I first moved into the Tides, I rented a one-bedroom condo and my wife, who hadn't joined me yet in Charleston, liked to joke that it was my dorm room," he said to me in the lobby of the Tides on a quintessentially sunny Charleston morning. Light spilled through the front and back doors of the lobby and across my notebook page as I wrote. It was already clear to me why Newsome enjoyed the atmosphere.
Newsome has lived in Mount Pleasant's Tides community, located at the foot of the Ravenel Bridge, since September 2009, when he initially accepted his new position as president of the ports. He claimed he needed a short commute to his office on Concord Street in downtown Charleston as well as a spectacular view. Since the Tides offered both, he has remained a resident since that first rental in unit 118.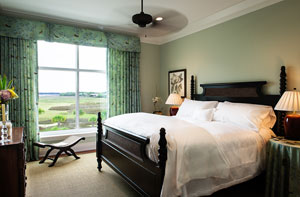 "I went from unit 118, the one-bedroom I lived in before my wife moved here, to moving into a three-bedroom in August 2010 with my wife, unit 224," he said. "Now, we've just purchased unit 245 and we're very pleased. After living here, we didn't particularly want to leave."
Of course, that's not to say that the Newsomes didn't speculate on the idea of moving out of the Tides community when the time came to buy a house. After a few years of renting units, Newsome said they carefully examined every option but kept coming back to the place they loved most.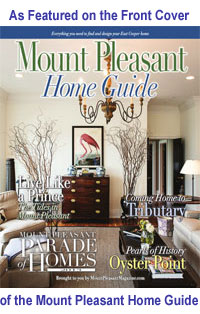 "We never wanted to leave, and we hoped to purchase from the beginning of our search," he said. "We looked everywhere – from the Isle of Palms to Sullivan's to Old Village – but we didn't really want a single-family home. After raising the kids and dealing with yard work nonsense for years on end, my wife and I welcome the experience of condominium living."
"Are you and your neighbors pretty much best friends?" I couldn't help but ask. I had imagined Kramer-like hall mates, knocking on Newsome's door to borrow sugar and ask about cruise ships.
Newsome's own busy schedule of running the South Carolina ports is peppered with relaxing moments at the Tides, enjoying the amenities and the view."We like all our neighbors a lot; in fact, our best friends here in Charleston, the Brodys, live at the Tides as well," he said. "And we run into people in the elevators or here and there. But everyone keeps busy schedules."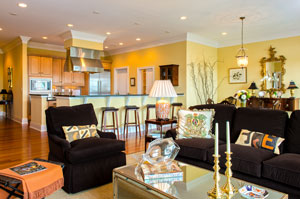 "I use the swimming pool a lot. It's probably my favorite thing," he mused. "I also love the sauna and the fitness room."
Newsome took me around the grounds, showing me the amenities center, where residents rent space for parties, as well as the pool deck, which is complete with a miniature fridge and plenty of grill space.
"I don't know if I could live here," I said. "I'd feel like every day was my vacation!"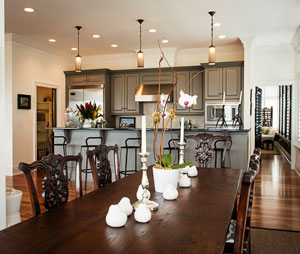 Though he and his wife take advantage of the proximity to both downtown and Mount Pleasant that the Tides offers, Newsome said he spends most of his time on this side of the Cooper River.
"I do a great deal of golfing at the Daniel Island Club, working out at ECCO and riding my bicycle," he said.
"Do you ever get tired of seeing the harbor?" I had to ask. "I mean, do you think about work when you come home and look out the window?"
"It doesn't bother me at all," Newsome said. "I could watch ships all of the time."
Speaking of ships, Newsome was more than happy to share the details of how the ports' objectives are trucking (chugging?) along.
"For 2013, we will continue to focus on our chief goals, such as deepening the Charleston harbor, forming an inland harbor in Greer, South Carolina, and working on the Navy Yard terminal," he said.
Newsome also said that the rapid growth of Mount Pleasant bodes well for the port's growth and Charleston's growth as a metropolitan region.
"I think that anything that increases the profile of the greater Charleston area is good news for the port," he said. "We're bringing in more people from other places, better infrastructure – and our shipping volume is up almost 10 percent from one year ago. We've got a lot of objectives to cover but we're meeting them."
Somehow, Newsome still finds time for "extracurricular" activities in Mount Pleasant in addition to his busy career and taking in the beauty of the harbor. The morning we chatted, he was just coming from a meeting of the Heart Walk Committee, a walking fundraiser for heart disease that takes place in September. He's also on the board of Trident United Way, the Advisory Board of MUSC Children's Hospital and the Board of Governors for the College of Charleston's Business School.
Despite his packed schedule, Newsome finds life in Mount Pleasant – and at the Tides – calming.
"After life in the big cities, it's great," he said. "I laugh at people who complain about the traffic, in fact. I go back to Atlanta now and shudder at the eight lanes. Life is just plain good in Mount Pleasant, and I can get downtown in 10 minutes. Living at the Tides has provided me with the best of both worlds."