RiverTowne Country Club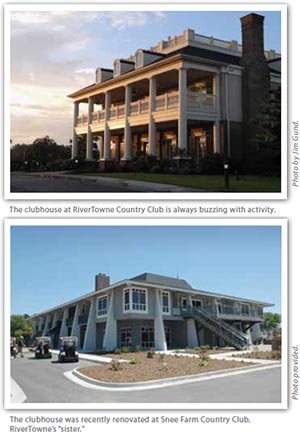 If you're a golf enthusiast in the Lowcountry, chances are you've had the opportunity to test your skills on the only Arnold Palmer signature course in the area. You may not know, however, that this picturesque and challenging course is only one of the advantages of membership at RiverTowne Country Club.
Nestled among live oaks overlooking a verdant marsh, the grand clubhouse, flanked by palm trees and a sparkling pool, is buzzing with activity. Events and gatherings, carefully planned for members, range from wine tastings and shag lessons to princess and pirate parties and a monthly parents' night out. Options are key here, and there is a little something for everyone in this mix. "Catering to niche groups," as the club's membership manager, Emzi Wewers, calls it, is a priority of the club's staff and is something she certainly has down to a tee. Wewers and other staff members enjoy seeing people of all ages coming out to participate in the endless stream of activities.
"I would say about a third of our members are young professionals, a third are families with school-age children and the other third would be of retirement age," she said.
A perfect example of the multigenerational options is in the way members choose to dine. Some enjoy relaxing in the beautiful dining room and savoring a creative meal by executive chef Jason Ulak. Others may want to join in on one of his cooking demos and participate in the creation of their meal. The busy parent who has no time to prepare dinner after a soccer game ran late is covered, too – a takeout, readyto- eat option is available.
People from as far away as Charlotte, Atlanta and Florida enjoy membership at this premier club. The majority of members, however, live within a five-to-10-mile radius and are able to come out and enjoy all the club has to offer on a weekly basis.
An exciting new addition to the RiverTowne Country Club family is the renovated clubhouse at Snee Farm Country Club, RiverTowne's sister club. The only duel membership in the area is available at a reasonable price, and the package includes access to both golf courses, two clubhouses, two restaurants and two sets of club social activities, including the upcoming Roaring '20s-themed "Gatsby" party.
For more information on becoming a dual member of Snee Farm Country Club and RiverTowne Country Club, contact Emzi Wewers at (843) 849-2400, ext. 3, or visit www.RiverTowneCountryClub.com.