Frontdoor communities gives new meaning to the phrase "go local." Home buyers at Tributary, located just inside the gates of RiverTowne in Mount Pleasant, can take pride in knowing their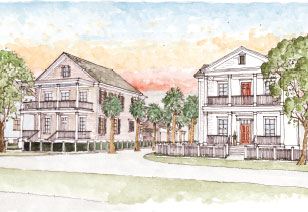 home was built and designed by local architects, engineers and craftsman who understand the unique benefits of Lowcountry living.
"We truly want to encourage growth and prosperity in the South Carolina Lowcountry while giving our families a great sense of local pride," said Mark Lipsmeyer, vice president of FrontDoor Communities.
The local flavor is obvious: custom-designed door knockers by Charleston's School of the Building Arts; interior artwork created by local artists; reclaimed fireplace mantels from a local company specializing in salvaged Lowcountry wood. Down to the smallest detail, FrontDoor strives to be local and sustainable.
The neighborhood was established by veterans of the industry with more than 25 years of experience and a long history in the Charleston area.
"We have eight distinctive home plans available at Tributary that were designed by two of the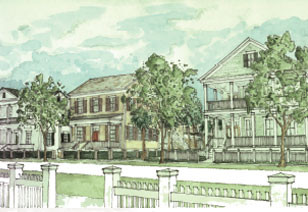 Lowcountry's best architects, Eric Brown and Eric Moser," Lipsmeyer explained. "Every home takes advantage of the views, breezes and orientation to parks, with a focus on outdoor living."
The homes range between 2,000 and 3,100 square feet, with prices starting in the high $300s. New home buyers can visit the FrontDoor Communities sales center on-site, or the design center, where they can choose everything they need to personalize their home.
"Tributary offers homes within a well-established neighborhood with a great sense of community. The amenities are complete and ready for your immediate pleasure," said Lipsmeyer.
Amenities include a community dock, walking paths, an 18-hole golf course designed by the immortal Arnold Palmer, plus swimming and tennis facilities. Residents at Tributary enjoy access to golf cart paths that wind through the rest of the RiverTowne neighborhood, including the commercial area, where they can shop for groceries or dine at the local pub. Tributary also offers easy access to Highway 41 and is just minutes from Highway 17 and Interstate 526.
"We love working with local people to help create the charm that is such a large part of the beauty of Charleston," Lipsmeyer explained. "We have new communities on the drawing board, and all will have the same respect for the land and the environment."
Mike Langella, president of Front- Door Communities, also highlighted the importance of appreciating the land when working with infill projects.
"We pay special attention to details such as how the land planning, home design and landscaping interact with the surrounding communities because it is important to respect the existing environment. We do sweat the small stuff and are very dedicated to our communities," Langella said.
FrontDoor Communities homes include a large number of energy-efficient and eco-friendly features, along with a solid warranty.
To learn more about Tributary, call (843) 881-5881 or visit www.TributarySC.com. To learn more about FrontDoor Communities, visit www.FrontDoorCommunities.com.