ON THE COMEBACK TRAIL: Housing Industry Rebounding East of the Cooper
The Cooper River forms one boundary of the Charleston peninsula, separating the historic downtown section of the city from its neighbors to the east. The area known as East Cooper, especially Mount Pleasant and Daniel Island, was a hotbed of residential construction before the housing industry came crashing down in 2008, encouraging investors to spend their money elsewhere and builders to seek other ways to make a living.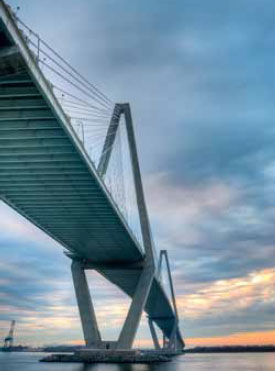 As 2013 approached, however, East Cooper's housing market was making a comeback.
"We got down to eight to 10 permit requests a month. It was very difficult because we had to lay off five employees," said Lee Cave, building official with the town of Mount Pleasant. "Now we're receiving an average of 40 to 50 permit requests a month, so it's possible we may increase our staff once again. But we will approach new hires cautiously because none of us want to go through downsizing again."
The increased activity in the housing industry has provided a boost in other sectors of the East Cooper economy, from construction to food service and many other areas as well. Everyone benefits when new homes are built and new families move to the area. Mount Pleasant's motto, "Come on Over," reflects the town's dedication to enhancing growth and prosperity.
"Mount Pleasant is the premier community in Charleston," said Cave, a fourth-generation resident. "We are excited about all the growth. It is a family town with a good blend of commercial properties, light industrial and residential. More and more, we are becoming a self-sustaining community with exciting projects improving our roadways."

Mount Pleasant encompasses 42 square miles, from the base of the Arthur Ravenel Bridge to the bridge on Sewee Road and from Highway 41 to the Wando River. There's lots of room to grow, even in areas that at one time appeared to be crushed under the weight of a faltering economy. Take, for example, Carolina Park, located of Highway 17 on the north side of town. Several builders are now creating a buzz in a project once given up for dead.
Ryland Homes is in the process of building 58 new luxury homes at Carolina Park, with another 54 planned during phase 2 of the project.
"We will build homes in Carolina Park in a Lowcountry style, with stacked porches, which encourages a neighborhood feel," said Brian Cartwright, vice president of sales and marketing for Ryland Homes in the Charleston-Myrtle Beach region. There will be six floor plans to choose from, with prices from the low $300s. We're excited about building in Carolina Park and Tupelo."
Ryland will build 155 homes in Tupelo, located on Highway 17 near Wando High School. Phase 1 will include 60 homesites and two options, the Lake Series and the Georgetown, both single-family homes starting in the low $200s.
David Weekley Homes, which has been building on Daniel Island for several years, is introducing four new designs at Carolina Park that highlight open areas.
"Carolina Park is a long-anticipated, master-planned community near great schools and is ideal for families," said Bryan Booth, division president for David Weekley Homes in South Carolina. "We have been motivated for the last few years to build in the Mount Pleasant area, but there just weren't any homesites available. We are excited to have this opportunity on such a grand scale at Carolina Park."
Carolina One, an established real estate company, certainly welcomes the building resurgence in the Mount Pleasant area.
"Our clients will get to choose from builders such as Ryland Homes, David Weekley Homes and Lowcountry Residential Builders," said Will Jenkinson, broker-incharge for Carolina One New Homes Division. "It's a good thing so many builders are back in town because their construction is breathing new life back into Mount Pleasant. They are definitely meeting the demand of single family homes around the $300,000 price point. No one likes to see things sit stagnant."
Lowcountry Residential Builders is offering cottage-style homes starting at around $250,000 in Linnen Place, located off Highway 17 North and Hamlin Road, near what will be the new campuses of Jennie Moore Elementary School and Laing Middle School.
"Our sales have really taken off in the last six months because we are at the desired price point for families and for many who are downsizing from larger homes," said Kris Kordonowy, operations manager for Carolina One New Homes. "The location is fantastic; we are nestled between the major arteries."
Further north, FrontDoor Communities is building 62 homes that will start in the high $300s in Tributary, a neighborhood located in Rivertowne Country Club off Highway 41.
"Our company is new to the area, but the company president, Mike Langella, and I have contributed to the Charleston landscape by creating neighborhoods and building more than 500 homes over the last 12 years," said Mark Lipsmeyer, vice president of FrontDoor Communities. "Our homes are traditionally designed with large porches and properly proportioned rooms. The homes are really loaded, with emphasis on the details. We sweat the small stuff."
Meanwhile, Beazer Homes is working on its second phase in Lieben Park, approximately two miles from the new Roper St. Francis Hospital off Highway 17 North, and D.R. Horton is offering custom-built homes in Masonborough and town homes at Kingsbridge and Preston in Park West.
The future obviously is bright for builders seeking to lure potential homeowners to Mount Pleasant.
"Construction of new homes and town homes has been on a steady incline," said Cave, who has worked with the town of Mount Pleasant for 24 years. "Many of the builders that have returned to the area offer their own financing, which is making a difference, along with the lower mortgage rates. If this keeps up, the future will be bright."