ARCHIVAL ARTICLE
It's interesting how much difference a few years can make. When plans for the Royal Palms of Mount Pleasant were first devised, the bustling shops, restaurants and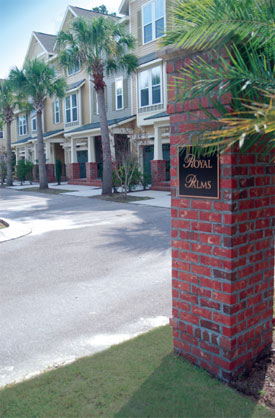 neighborhoods that now make up "north" Mount Pleasant were no more than a vision.
Now, Mount Pleasant beyond Towne Centre is rapidly becoming the place to raise families, enjoy local businesses – and live in luxury without spending a whole lot of money.
Royal Palms of Mount Pleasant was conceived in 2008 by the reputable architectural firm Schmitt Walker. After just a fraction of the development was built, the project was set aside while the housing market readjusted itself.
Royal Palms, now owned by Royal Palms Holdings, LLC, is a premier community for living and playing. Currently managed by the Carolina One New Homes Division, Royal Palms promises to represent a refreshing change from the usual ideas about town homes. There are three different floor plans – the Imperial, the Regal and the Sovereign, ranging from about 1,800 square feet to almost 2,500 square feet.
"These town homes are luxurious inside and out," said Julia Cunningham of Carolina One New Homes. "For example, the kitchens include all the latest trends, like stainless steel appliances, granite countertops and lots of pantry space. The bathrooms are spacious and perfect for relaxing, thanks to the enormous tubs."
One of the absolute coolest things about Royal Palms is that it's easy to both live and work in your town home if you choose. How, you might ask? The two larger floor plans each offer a bottom floor with a powder room and office/study, perfect for conducting business apart from the living space upstairs.
As I explored the various floor plans with Cunningham on a sunny day in Mount Pleasant, I found myself realizing that I'd be happy in any of the three. Each one – even the smallest – is spacious, down to the closets and two-car garages.
"There is nowhere else in Mount Pleasant where you can get this amount of square footage at this price point," Cunningham remarked, pointing out that the town homes begin in the low $200s.
Of course, the community features plenty of gorgeous trees and green space, as well as iron fencing and plans for a bustling community.
"For Nature lovers, we'll have plenty of preserved green space," said Cunningham. "And the new developers are now planning other amenities to complement the community, like an open-air pavilion."