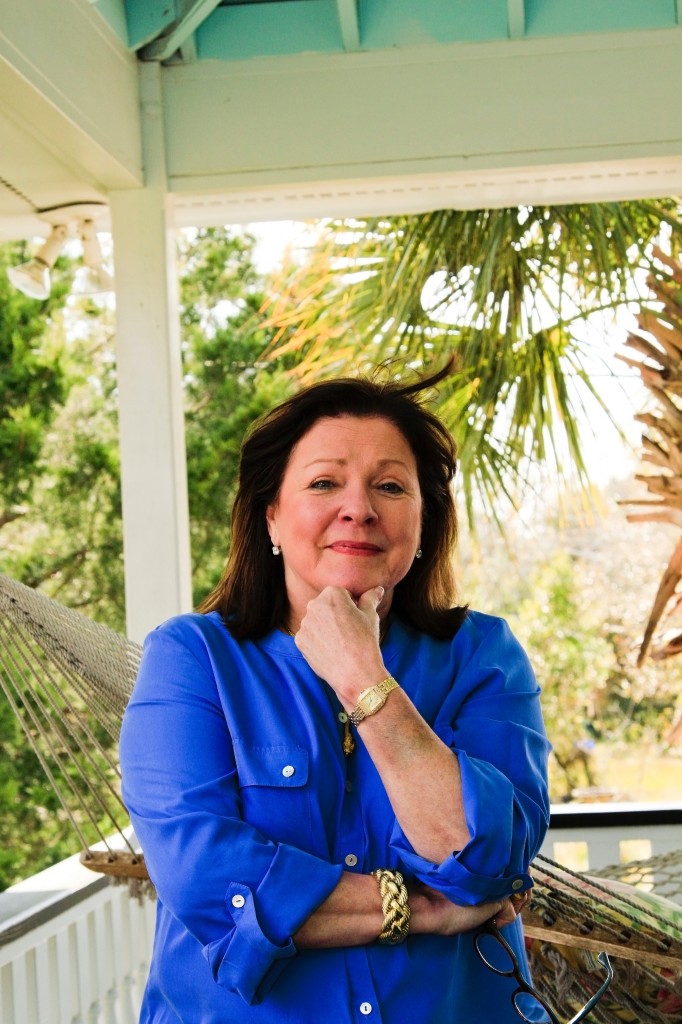 The characters in her books embrace their connection to the South, and so does Dorothea Benton Frank, a prolific and successful writer who was born and raised on Sullivan's Island and still spends much of her time in the South Carolina Lowcountry.
On an unseasonably chilly afternoon in March, Frank, affectionately known as "Dottie," revealed that she loves to meet people who read her books. The rocking chairs on her Sullivan's Island porch looked inviting, but there was still a nip in the air, so she ushered me into her kitchen where we could talk about her 14th book, "The Last Original Wife," which is scheduled to be released June 11.
Frank opened with the question, "If you have 20 to 30 years left to live, how do you want to live it?"
Her newest novel, set in Atlanta, shows how her protagonist, Leslie Anne Greene Carter, grapples with that question of fulfillment. Her life is a wreck with her "control freak husband," who, according to Frank, "is clueless as to how to make his wife happy." He thinks annual trips to the Bahamas and Las Vegas and a nice house should be enough.
Leslie must endure her husband's golf buddies and their new, young "Barbie wives." Every baptism and graduation is an awkward occasion. Leslie is "the last original wife," yet she is proud of what she has put into her marriage.
Frank, who has been married to her husband, Peter, since 1983, explained that "Marriage is the most important decision you ever make." She warned, however, that it is possible to go through decades of marriage ignoring the issues at hand."
That, apparently, is Leslie's major problem, until she falls into a manhole when she is out golfing with her husband and his friends.
"No one even notices that she is gone," Frank exclaimed, "including her own husband."
This is a "liberation story," Frank explained, but she went on to say, with a laugh, that when her central character gives the single life a whirl, "The men don't show well."
She added that as much as she loved writing this book and her 13 others, she always wishes in the end that she had six more months to spend with her characters.
Frank, who released her 13th novel, "Porch Lights," last June, said she writes to tell stories rather than to win Pulitzers. She feels a connection with her characters; many of them experience a sense of coming home, just as she does when she visits Sullivan's Island. Frank and her husband split their time between the island and their other house in Montclair, New Jersey.
In "Porch Lights," Frank leans on her own experience as a resident of the Northeast who grew up in a Southern beach town. Devastated after losing her firefighter husband, Army nurse Jackie and her son leave their busy life near Manhattan and seek solace on Sullivan's Island. Young Charlie begins to heal as he becomes engrossed with the island's history, especially with writer Edgar Allan Poe who, as an Army officer, was stationed at Fort Moultrie on Sullivan's Island. Frank was fascinated by the results of her research on Poe for the book.
She also is fascinated with Sullivan's Island and its environs. Her mom passed away in 1992, and she calls the Lowcountry her "substitute mother."
"When I come here, I feel better. I have such a sense of place. I love every dirty brick in this town," she said.
"It would be safe to say that it's a lifelong love affair between me and the pluff mud. I am never as happy anywhere else as I am when I'm in Charleston – especially on the island. And there's a sense of belonging that's impossible to put into words, like having an invisible arm around you that's keeping you safe," she revealed.
When she isn't writing or traveling around the country drumming up publicity for her books, Frank likes to spend as much time outdoors as possible. An avid gardener, she plants and prunes in two entirely different climates.
"In New Jersey, I can grow things in abundance that would never perform as well in South Carolina," she said.  "For example, my hosta here is enormous, and I have as many as 10 varieties on my property.  So are my rhododendrons, azaleas, pachysandra and border plants like lamb's ear. Down South, my confederate jasmine is a perennial and in New Jersey it's an annual. It's fun to see how differently specimens perform in other climates."
Growing up on an island, it's no surprise that Frank loves to walk the beach. Her loyal readers most likely will have the perfect novel in their beach bag this summer. And maybe they will even catch sight of their favorite New York Times bestselling author.
by Helen R. Hammond
Photo by Wendy Mogul – Angel Photo