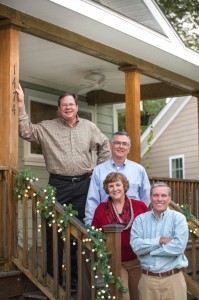 Mount Pleasant is known for high-performing schools, stylish neighborhoods and manicured thoroughfares. Work on Highway 17, now a testament to the vision of residents and town officials past and present, is almost completed. The transformation of Coleman Boulevard into main street Mount Pleasant is well underway.
You don't have to dig all that deep to reveal the fallacy of the myth that Mount Pleasant residents care only about surface pleasures. The city is home to several nonprofits that have a singular goal: to lend less-fortunate neighbors a hand.
Though their origins, goals and methods of operation may differ, these groups share a common thread. To do their job, they depend on the generosity of residents and businesses, and they thrive because volunteers are willing to give time to make life easier and better for our East Cooper neighbors.
East Cooper Community Outreach
"Teaching People to Fish"
ECCO emerged from the ruins of one of East Cooper's tragedies. Members of Christ Our King Church and Monsignor James Carter combined forces with other churches to provide food and clothing for people who lost everything when Hurricane Hugo swept through the area in 1989. Located in an old supermarket and later in a trailer on Lansing Drive, ECCO now occupies a 16,000-square-foot building near where Six Mile Road meets Highway 17 North.
ECCO offers a wide range of services to low-income residents, including a dental clinic, a medical clinic and a program that helps people help themselves by teaching skills for finding and maintaining a job.
According to Executive Director Jack Little, who has been in his current position since 2005, ECCO changed focus in 2008.
"We shifted from giving people fish to teaching them to fish," he explained.
Sheila Russell, who directs ECCO's Job Readiness Program, said her goal is to help someone get a job and keep it for a year. ECCO works with area business and organizations including the town of Mount Pleasant, the Daniel Island Club and Wild Dunes.
"They know that they'll save on turnover, and they know they get Sheila as part of the package," Little commented.
ECCO's 12 full-time and 12 part-time employees receive help from around 150 volunteers a week. Among those donating their time and talent are approximately 35 local dentists. ECCO will probably serve 3,000 or more area residents in need of dental care this year, according to Leslie White, who runs the dental clinic, a facility also staffed by Medical University of South Carolina Dental School students one day a week. Area residents can have their teeth cleaned or extracted, and the clinic has been handling fillings and other restorative work since 2006, when ECCO received a grant from Blue Cross Blue Shield.
ECCO also houses a medical clinic run by MUSC during the day and by medical students three nights a week. The clinic offers a prescription drug program and mammograms, as well as confidential mental health counseling provided free of charge by Marie Carter & Associates.
Little said about a third of his budget comes from grants and foundations, about 15 percent from fundraisers including an annual golf tournament and the rest from donations from businesses, churches and individuals.
"We're really wrapping our arms around people," Little said. "We want them to know we care about them and we want to get them into a better situation."
East Cooper Community Outreach
1145 Six Mile Road • Mount Pleasant
(843) 849-9220 • www.eccocharleston.org
Habitat for Humanity
"We Give a Hand up, Not a Handout."
Without volunteers, Habitat for Humanity could not exist. The organization's vision is that everyone deserves a decent, safe home in which to live, but Habitat is not in the habit of giving houses away.
"We give a hand up, not a handout," Executive Director Bob Hervey explained.
According to Hervey, the organization's target is low-income people who need a new home. They might be paying more than they can afford, or they might be living in a high crime area. Or they might simply need a larger home.
They won't get a home from Habitat unless they are willing to put in 350 hours of sweat equity to help build the house, whether driving nails, landscaping or painting. More technical stuff, such as plumbing and wiring, is handled by professionals who volunteer  their time. Hervey noted that Habitat homes are subject to the same government inspections as any other builder.
There are five Habitat affiliates in the Charleston region; the East Cooper affiliate, established in 1990, serves most of the area, though a large percentage of the 66 homes are in Mount Pleasant.
"We like to build where there is already water and sewer service," Hervey explained.
About a thousand people a year volunteer to work on Habitat homes. Some show up in regular groups on a specific day of the week, though Saturday is generally the most popular day for locals to help their neighbors build a home. If a home is finished and the owner hasn't put in 350 hours of work, he or she helps build the next home.
Habitat for Humanity has two main sources of income. The organization has money coming in from the interest-free loans it makes to homeowners, but it has an even stronger flow of cash from its ReStore on Long Point Road, where people can buy a wide range of household items donated by area residents.
Hervey keeps up with most of his homeowners and is especially proud of the McAdams Court neighborhood, located just off Highway 41 North.
"Every homeowner there does a really good job of maintaining their property," he commented.
East Cooper Habitat for Humanity
1558 Ben Sawyer Blvd. • Mount Pleasant
(843) 881-2600 • www.eastcooperhabitat.org
Windwood Farm Home for Children
"Fresh Air and Sunshine Are Part of the Healing Process."
At Windwood Farm for Children, the staff works with boys between the ages of 6 and 17 to prepare them to return to a family situation, whether with relatives or in a foster home. It helps that the facility is located on 110 acres near Awendaw, according to Deborah McKelvy, who's served as executive director for the past 15 years.
"A lot of psychiatric programs lock the doors. But kids need to be outside. They need fresh air and sunshine. That plays a part in the healing process," McKelvey said.
The facility includes an equine arena, with 10 horses that play a role in the children's therapy. The residents also have dogs, goats and an indoor beehive. The youngsters ride bikes and work and play on the ropes course, fitness trail and obstacle course.
"For kids who struggle with learning, creative ways to teach are pretty cool," McKelvey said.
McKelvey said Windwood is currently home to 22 boys, most of them in the custody of the South Carolina Department of Social Services. They all arrive with behavior problems, and many have been abused. They usually stay at Windwood for around a year.
Youngsters who are able to adapt attend public schools, while others are required to learn at Windwood.
Volunteers from local churches and businesses help out periodically at the farm, handling chores such as landscaping and painting.
"The neat part is that the kids like to give tours," McKelvey said. "They are proud of where they live."
Windwood Farm Home for Children
4857 Windwood Farm Road • Awewdaw
(843) 884-5342 • www.windwoodfarm.org
Meals on Wheels
"We Serve Everyone"
Each day, Meals on Wheels volunteers drive 17 different routes, delivering meals to nearly 300 homebound residents of East Cooper.
Launched by St. Andrews Church in 1985, Meals on Wheels is the only organization filling this specific need, according to Executive Director George Roberts. Some people call on their own, while others are referred by churches, family members or physicians.
According to Roberts, the organization served 137,000 meals last year to East Cooper residents.
"It's not just for people in poverty," Roberts explained "We serve everyone, whether they live in an oceanfront home or at the end of a dirt road."
Meals on Wheels purchases the food already cooked. Meals are delivered every morning to Christ Church on Highway 17, where the organization now operates rent-free. Volunteers prepare them for delivery.
The people who deliver the meals donate time as well as gasoline. Some have been on the job for more than a decade. According to Roberts, the husband-and-wife team of Ed and Alice Quimby, both in their 90s, recently retired after serving the organization since its inception.
Roberts pointed out that Meals on Wheels volunteers – there are about 360 of them – might be the only people their clients see during the day.
"Sometimes we are the only person they talk to all day. If we see a problem, such as a leaky roof or an air conditioner that's not working, we advocate on their behalf," Roberts said. "We partner with other organizations such as Operation Home."
East Cooper Meals on Wheels
2304 Highway 17 North • Mount Pleasant
(843) 881-9350 • www.ecmow.org
Story by Brian Sherman
Photo by Kate McKinley Photography