Do you remember the days when a single guy actually had to risk humiliation by sparking up a conversation, buying a drink or even offering a bold wink to a reasonably cute girl at the bar? Or how about when a single woman used to spend hours in front of the mirror just so she would look hot enough to shoot down that idiot winking at her from across the room?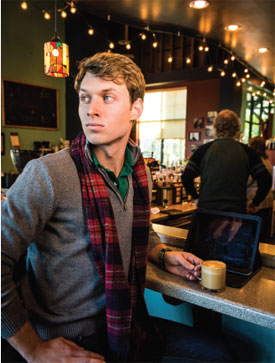 Well, for a small monthly fee, we now have the option to leave humiliation by the wayside and begin winking away on Match.com. Though this might sound like a joke, online dating sites actually work. In 2012, one in five relationships in America were birthed at dating websites.
Look at online dating like this: You are a single guy and you walk into a really big bar full of women – all of them on the prowl for a date. These highly eligible women are grouped into about 30 different categories, with illuminated signs over their heads that read, for example: "Loves the outdoors," "Sports buff" or even "Just looking for carefree fun." Then, somehow, you telepathically evaluate which of these girls happen to be interested in you. Although that realization quickly reduces your possibilities, there's still a cute someone in the "I love movies" category. Now, without even having to break the ice, you and your movie buff date are enjoying cocktails and discussing whether Clint Eastwood can ever successfully play anyone but an angry old man.
Take 29-year-old Erin, a research coordinator at MUSC, and Jeffery, a 35-year-old commercial real estate agent. They met on Match.com just over two years ago, and, since that initial wink, they have "fallen in love, become best friends and gotten married," Jeffery boasted.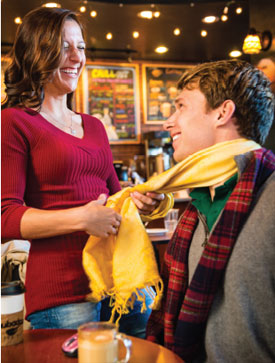 After watching "You've Got Mail" with Tom Hanks and Meg Ryan for the umpteenth time a couple of weeks ago, I thought I would never witness a more perfect relationship fashioned through online dating. That was until I heard Jeffery and Erin's story.
The evening began when a well-groomed Jeffery picked up Erin from her downtown apartment. He brought Erin flowers and put them in an urn. She snapped photos of his license plate and sent them to her friends.
"Just in case. I mean he was a stranger," Erin remembered. It's safe to say the two had a vastly different perception of the type of people they were likely to find through online dating websites.
The pair ventured over the Cooper River Bridge to Mount Pleasant for drinks and dinner, and Jeffery and Erin began to hit it off. Hours later, they were back downtown strolling through a baseball field near Erin's apartment. Jeffery had picked up a "sixer" of Sierra Nevada for himself and a bottle of merlot for the lady from the corner store, and they hung out in the dugout, drinking and enjoying each other's company. Before long, with daytime rapidly approaching, they retired to Erin's. She proudly remembered giving Jeffery the "I really like you, but if you're going to sleep over on the first date, it's going to be in your clothes" routine. Jeffery had no complaints.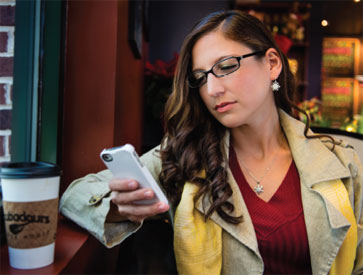 At first, Erin was skeptical about online dating, but she figured that if she went on two dates a month, she could have her Match.com subscription paid for. Jeffery, on the other hand, could easily be an online dating spokesperson. He has proudly used Match services since 2007.
"Match has helped me in a number of dating-related ways, but mostly it saves time since I can eliminate bad relationships because I already know a lot about the person from their profile before I go into the first date," he explained.
Jeffery and Erin aren't alone on the online dating circuit. In fact, according to statisticbrain. com, 40 million Americans have tried online dating, now a $40 billion industry. Each of the top five dating sites – Match, Zoosk, eHarmony, Perfect Match and Chemistry, in that order – has its own niche. For example, at $60 a month, eHarmony prides itself on having the premier personality matching system in the online dating sphere. Other niches are a bit quirkier. There is Equestriansingles. com, for horse enthusiasts; Geek 2 Geek, for those who find geekiness sexy; Republicanmeetpeople. com, for those who are looking for someone to share their right wing political views; and OurTime.com, for singles over 50. These are just a few of the thousands of online dating sites that all but guarantee to find your soul mate.
Online dating websites make it that easy for some. For others, however, such as Charleston newcomer Andrew Scherl, who recently canceled his subscription to Plenty of Fish – pof.com – the sites are not all they're cracked up to be.
"I was new in town and wanted to find a way to meet people. A friend suggested I try online dating so I went for it," he said. "There were a number of girls who flirted with me, but none of them were really my type. Finally, a cute girl asked me out for drinks, so I accepted. The date was going fine until she began to tell me about the numerous terrible dates she had been on through online dating."
"I just got a weird feeling about the whole online dating thing. I think I'd have to be really desperate to try it again," Scherl concluded.
Lindsey Davis of Mount Pleasant met her husband, Sheldon, on Match.com in 2005 – just weeks after she joined the website. She initially was with eHarmony but struggled with the confines of the site's personality matching system.
"eHarmony offered me only a handful of options for prospective dates. With Match, I was allowed to browse a broader spectrum of people," she explained.
Being able to meet different people was big for Lindsey, who had serious boyfriends throughout high school and college.
"Match opened my eyes to the fact that I have choices of who I date. It gave me the opportunity to meet a lot of new people," she said. "I also felt like I could be myself in my initial interactions with people on Match."
As far as meeting different types of people, Lindsey certainly got her wish. Her first date was with a man who had grown up as a sideshow at the traveling circus – he was stretch boy.
"Yeah, that date was a bit of a catastrophe," Lindsey said, laughing.
Fortunately, a cataclysmic first date didn't shake Lindsey's confidence in online dating, and just weeks later, she met Sheldon. Since the couple's first date – which fared far better than the one with the former circus performer – Lindsey and Sheldon have married, and their second child is on the way.
For every online dating love story like Jeffery and Erin's or Lindsey and Sheldon's, there is a negative experience similar to Andrew's. It all comes down to convenience and simplicity in a changing world and evolving technology. Perhaps the Match.com aficionado who can put together an enticing online dating profile may find himself with a leg up on the slick-talking stud who resembles an Abercrombie model. Or perhaps not.
by Cullen Murray Kemp