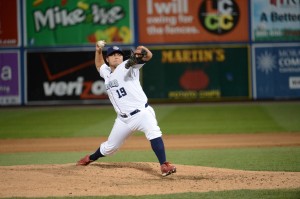 Millions of kids play baseball; only a tiny percentage are blessed with the talent, ambition, confidence and good fortune to reach the pinnacle of the sport and seize the opportunity to test their skills against the most accomplished players in the world.
Each player travels his own unique path to the day he dons a Major League uniform for the first time, takes his first practice swings as he approaches a Major League batter's box or throws his first pitch from a Major League mound. Some rise meteorically through the minors, stopping briefly at each level to display their talents in front of adoring fans, all the while knowing that their eventual destination is New York or Chicago or Los Angeles.
Others plod their way toward their dream, spending a year or two or three at each level and hoping against hope that a team – any team – will recognize their potential, ignore their shortcomings and give them a chance at the Major League level.
And some, like Mount Pleasant resident Mike Cisco, fall somewhere in between. He's not a can't-miss prospect, but neither is he a career minor leaguer. After five years of working his way through the Philadelphia Phillies' farm system, he's just one giant step away from realizing his lifelong dream of making his Major League debut at Citizens Bank Park – or some other big league stadium.
"I'd love to be in the big leagues with the Phillies," Cisco said in late January, as he prepared to head to the Phils' Spring Training camp in Clearwater, Florida. "But if it's with another team, it wouldn't be a huge disappointment. Any time a team trades for you or picks you in the Rule 5 draft, you know that team has some interest in you."
Cisco, who will turn 26 in May, grew up in a baseball family. His grandfather, Galen Cisco, pitched in the majors for the Mets, Red Sox and Royals and later served as a pitching coach for the Phils. His father and uncle, Jeff and Galen Jr., were minor league players. Mike's younger brother, Drew, is in the Cincinnati Reds organization.
After stellar baseball careers at Wando High School and the University of South Carolina, Cisco was taken by the Phillies in the 36th round of the amateur draft. A starting pitcher in high school and college and for the first four years of his professional career, he was moved to the bullpen in 2011. He produced eye-popping numbers in the pen the past two years, posting 11 wins against only three losses, six saves and a miniscule 1.71 earned run average while splitting time between AA Reading and AAA Lehigh Valley.
Though he was apprehensive at first, Cisco obviously thrived in his new role.
"I didn't know what to expect, but I adapted and now I love it," he said. "As a starter, if you have a good outing, those four days in between starts fly by. But if you have a bad outing, those four days really drag. You want to get back on the mound as soon as you can."
He added that he enjoys working out of the bullpen so much that he would relish the possibility of someday being a closer, a job that requires a short memory, nerves of steel and never-ending confidence.
"I like the adrenaline and the pressure of pitching late in a game," he commented. "I want to have the ball when the game is on the line. Think of me as a competitor with a bulldog mentality."
Cisco will go to Spring Training with every intention of impressing Phillies' Manager Charlie Manuel, but he realizes that his chances of being in Atlanta on April 1 when the Phillies open their 2013 season against the Braves are slim. The good news is that as the season progresses, the possibility increases that this will be the year he makes his Major League debut. Plagued by injuries in 2012, the Phillies recalled 12 different pitchers from Lehigh Valley; 10 of them worked out of the bullpen. The bad news is that none of them were named Mike Cisco. Though he has put together impressive back-to-back seasons, he's not on the Phils' 40-man roster, which means the team would have to release another player to take him to Atlanta at the end of Spring Training.
He's encouraged by the fact that two of his teammates at AA Reading at the start of 2012, B.J. Rosenberg and Tyler Cloyd, were pitching in Philadelphia before the end of the year.
"Anything can happen during the season. You have to be ready if the opportunity arises," he said. " The last two years, my numbers have been hard to beat. It's a little frustrating, but it's out of my control. All I can do is keep doing what I've been doing."
Cisco said he has mixed emotions when a teammate gets a ticket to Philadelphia. Some of the pitchers the Phils called up last year were close friends who came up with him through the Phillies' farm system.
"You want it to be you," he said. "But at the end of the day, the players aren't the ones making the decision. Rooting against your teammates is not a good way to go about your business."
Cisco, whose fastball is in the 92 mph to 93 mph range, certainly lively enough for success at the Major League level, also throws a changeup and a slider. He pointed out that it's vitally important to be able to throw any pitch in any count.
"Command is important. When you can command all three pitches, the hitter can't zero in on one pitch," he said.
Many players have put together a backup plan, a way to make a decent living just in case they don't make it to the majors. Mike Cisco hasn't considered that possibility.
"That's not even in my mind. I've spent so much time in baseball, and I absolutely love it," he commented. "I'm not giving up."
By Brian Sherman
By the Numbers
Mike Cisco's Minor League Career
Year Team Level W L ERA
2008 Willliamsport A- 3 1 0.99
2008 Lakewood A 2 1 0.51
2009 Clearwater A+ 7 3 3.31
2009 Reading AA 2 4 4.58
2010 Clearwater A+ 0 0 1.93
2010 Reading AA 4 11 4.73
2010 Lehigh Valley AAA 0 0 7.11
2011 Reading AA 8 0 1.59
2012 Reading AA 3 3 1.21
2012 Lehigh Valley AAA 2 0 2.67