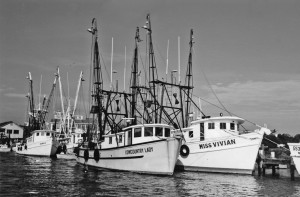 On an unseasonably warm day in January, I dined at Red's Ice House on Shem Creek, a familiar place to nearly all residents and visitors East of the Cooper, and daydreamed about what Shem Creek was like during the golden age of local shrimping. The restaurants and bars we currently love would be gone, of course, replaced by rustic fisheries, where shrimp boat captains would stop in with the morning's bounty. Make no mistake, the creek would be just as populated as it is today – mostly with shrimp boats vying for the best spot to occupy until the time came to head out for the open water once again.
Until I talked with Sam Schirmer, a native of Sullivan's Island and a one-time shrimp boat captain, along with his father, the legendary Robert "Hagg" Schirmer, I knew little about shrimping besides what could be gleaned from watching "Forrest Gump." But, while listening to Sam's vivid stories about Mount Pleasant's shrimping era, I felt like I was right there on the boat.
Schirmer, his father and the mates who accompanied them on various adventures undoubtedly can tell countless tales among them. But in the couple of hours I spent speaking with Sam, I learned a great deal about navigating Lowcountry waters for shrimp and the laughs and bloopers that went along with it.
"When I was growing up, I thought all the other shrimp boat captains and crews were friends with my father," Sam explained with a hearty laugh. "I didn't realize, because I was a kid, that they were actually competitors, out to get the most shrimp. Of course, when I became a captain myself, later on, I quickly figured it out."
Schirmer reminisced about the different "groups" of shrimp boat captains and crews and how everyone shrimped different parts of the Lowcountry, including groups that stuck to Rockville and McClellanville.
"Of the ones close by, the Magwoods shrimped on Morris Island; Wayne Magwood, Barry Wilson and Louis Williams tended to shrimp in "the channel," where the ships came in – which could be difficult because of dodging ships – and others shrimped from Sullivan's Island to Bulls Island," Sam told me. "The Bulls Island and Sullivan's Island crews included my father, Farrell White, Wally Shaffer, Skipper Shaffer and Bubba Rector, who actually still shrimps to this day."
According to Schirmer, shrimping was so popular around Mount Pleasant during his youth that it was tough to get down the center of Shem Creek because the boats were so thick.
"Now there are only a few boats; it's not like it was back then," he explained.
How did these shrimp boat captains beat their competition and get the most shrimp? Very craftily, according to Schirmer.
"There were certain tricks of the trade," he said. "These included techniques that were not so sophisticated, like straight-up fibbing – 'You catch anything over there?' 'Nope' – and other stuff."
The "stuff" included everything from radio scramblers, which garbled conversations between crew members so competitors could not decipher what they were saying; to selecting the best docking position at night for earlier launch the next morning; to, according to Sam, one of the most important techniques, otherwise known as the "rules of the road."
"The rules of the road, as we called them, were how the ships approached each other on the water," Sam said. "There were red lights and green lights on either side of the boat. They determined who was able to pass whom. The lights helped with dealing with the close quarters among ships that traveled similar paths."
As the years passed, the hours in which the captains were able to shrimp decreased. In the late 1970s, the Department of Natural Resources made it illegal to shrimp at night in South Carolina.
"It actually made sense – there was never any down time on the ocean floor," Sam said. "Ships were out all day and all night. When the new law took place, 30 minutes prior to dawn became the cutoff. People got arrested all the time over being a couple of minutes early, because the actual time for sunrise changes each day."
Just as the water was home to competitive shrimp boats, Shem Creek was home to competitive fisheries. Among the earliest on Shem Creek were Mount Pleasant Seafood, owned by Buddy Sturges, and Moultrie Fisheries, owned by Red Simmons – yes, that Red.
"My father and I unloaded with Moultrie Fisheries for years. Then, in 1976, we began unloading with Mount Pleasant Seafood," said Sam. "Later we unloaded with Geechee Seafood, which was across the creek from the other ones and which came about after the others shut down. In fact, it still exists."
"How would the boats determine who went to which of the fisheries?" I asked.
"Ohh, fighting," Sam admitted with a laugh. "An owner of a fishery would get into a fight with a shrimp boat captain and they'd part ways for awhile. It all came down to whomever you were getting along with."
Despite the bickering and competition running rampant with shrimp boat crews, Schirmer said that obstructions in the waterways, also known as "hangs," were not kept secret, because they could tear the shrimp nets.
"Many a fisherman lost a net on a local hang that we now recognize as part of the Hunley," he mused. "But a lot of people don't know that two more hangs exist off the Isle of Palms pier – Confederate ships. When we'd fish off the Isle of Palms, we could never get any closer than half a mile away."
Though Schirmer and his father left the business around 1982, Sam Schirmer said he still misses it.
"These days, most shrimp are farmed or imported," he mused. "I went into insurance after the shrimping life, a career that I've maintained since then, and my father retired as well. I always thought if I wanted to go back to it one day, I could."
A look that can only be described as nostalgia came over Schirmer's face.
"But it's not the same anymore," he admitted.
By Denise K. James