Editors' note: We asked Bianca the Brassiere to write a clever and engaging essay about Valentine's Day from her perspective. We hope you will enjoy this rare and interesting look at Valentine traditions. Remember, true love conquers all – even the most confounding of undergarments.
Not all bras are decorative. Let's get that straight. I have plenty of relatives – hell, even sisters – who are downright dowdy: plain nude-colored with not so much as a bow in the center. Suffice it to say that none of them have experienced much in the way of Valentine's Day memories.
On the other hand, floral with pink lace is a pretty lusty combination. Not to brag, but I've seen more than my fair share of passionate revelry.
Like most bras, I started off in the ladies' section of a department store, just one among many vying for the attention of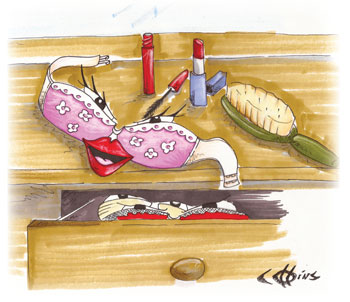 passing female shoppers. Being the one they choose is not as easy as it might seem. First of all, you never know what size women are going to claim they wear. Let me explain. You see a well-endowed shopper walk in and think to yourself: Surely she'd take a D! The next thing you know, the chick tries to stuff herself into a C. Yeah, sure, it's true that she'd probably have a better selection of us from which to choose if she were a tad less busty. But, hey, life can be tough. That's not my problem.
The day I got selected was a winter afternoon, shortly before the big Valentine's Day occasion itself. Not that I expected to be picked specifically for a Valentine's Day outing. I'm cute, but I'm pretty modest and, after all, there are plenty of other bras hanging around who leave less to the imagination. But I was feeling reasonably optimistic that day, as all bras do during the cold winter months. Ladies are more likely to wear lacy, creative stuff when more layers of clothing are going on top.
"I love this one; pink and yellow are my favorite colors," exclaimed my now-owner, Meredith, to the gaggle of girls tagging along with her on her shopping excursion. "I'm going to try it on."
Minutes later, after we got to know each other intimately in the dressing room, we left the store together. She brought me home, took me out of the tissue paper – thank goodness; it was hard to breathe in there – and tucked me into a drawer with a lot of other bras, all of them as boring as macaroni without cheese.
"Hey, y'all," I ventured. "What's life like around here?"
"Pretty unremarkable," said a black push-up with absolutely no decorations. "Meredith washes us regularly, but we don't see much action from inside this drawer."
"What kind of action you looking for?" I asked.
"I don't know. Her room stays pretty quiet. And I can't see a thing through this opaque rubber container."
"She's seeing someone new though," a yellow sports bra piped up. "I've seen him before. They went running together. I wonder where they're going for Valentine's Day?"
"Well, I bet I'll be selected to go out with them," I said, my cups puffing with prurient pride. "After all, the rest of you are really plain."
"Meredith is plain," Blackie retorted. "So you never know."
But sure enough, on Valentine's evening, Meredith plucked me out of the rubber drawer and snapped me into place. I wanted to ask her where we'd be going for dinner, but bras and people don't generally carry on meaningful conversations. She covered me with a low-cut black blouse; I lifted myself just enough for my pink edging to peek out the top.
"All right," I heard her say under her breath. "He'd better not be taking me to McDonald's."
Fortunately, dinner was at an elegant restaurant. I checked out what the rest of the women were wearing, but I didn't see anyone I recognized. Meredith kept leaning over the table toward Adam (I eventually found out his name when she kept giggling it over cocktails), and I did my best to make sure he saw as much of me as possible.
Later, I realized he wasn't interested in getting to know me at all – he barely glanced at me as he tore me off of Meredith (well, I say tore but it actually took a moment or two; most men have a tenuous understanding of how we work) and tossed me so far I practically landed underneath the bed. Talk about dust allergies.
"Be careful!" I heard Meredith squeal. "I paid good money for that thing!"
That thing?
That's when it hit me –my epiphany about women, men and bras: We don't really command much respect. Don't get me wrong; I'm glad Meredith gives us our own drawer and washes us with gentle detergent. But when it comes right down to it, a bra on Valentine's Day is even less important than a box of chocolate.
I reported back to the other bras the next morning, after Meredith scooped me off the floor and returned me to the group. They were all dying for details.
"What happened?" asked Blackie and Sporty Yellow.
"Not much," I admitted. "After dinner was over I pretty much had a back row seat."
The other bras snickered.
"That's the life of a cute bra," they said. "Those of us who are dull and practical go everywhere with Meredith. She depends on us."
"Whatever," I replied.
That was a few years ago. Now Meredith and Adam are married, and I hardly come out of the drawer at all. Blackie and Sporty Yellow are long gone. But when the younger bras come along – all practical ones, naturally – I tell them the story of my first Valentine's Day.
"Wow. Were you scared, diving through the air after Adam removed you?" they all ask.
"Nah, I kind of miss it," I said. "I've been in this drawer so long now, my straps are starting to go numb."
Original Art by Ryan Collins