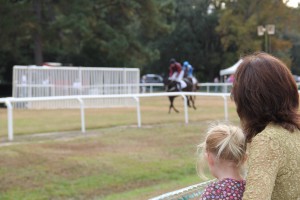 I've never met Karl McMillan, but I gushed to him about what a fantastic time I had at this year's Charleston Cup as soon as he picked up his mobile phone. And I'm not alone – about 12,000 other people had a great time as well at the 20th running of the local steeple chase.
This year's race was the third for the Cup since the eight year hiatus that McMillan and crew took from the event between the years 2003 and 2010. McMillan remarked that this year's number of attendees is a surge in growth from the first two years since the hiatus – and he feels positive that the event will continue to gain momentum. In fact, he's already had people inquiring about next year.
"You know something is a good thing when it's over and people start calling you, asking to sponsor next year," he said. "We've already had some interest, and we'll have several new sponsors for 2014 which should help breathe more new life into the event."
Mount Pleasant Magazine's tent – complete with staff camaraderie, food and beverages – was the perfect place to view the horses galloping by. The Charleston Cup is the perfect place to make new friends and meet up with old ones. If you didn't go this year, mark your calendars for 2014, which should be even bigger and better.
"We feel good about being on the right track," said McMillan, obviously making a well-played pun.
By Denise K. James
Photo by Brandon Clark