Most people who didn't grow up in the Charleston area have an interesting story about how they landed in the Lowcountry, and Guy Vitetta is no different. A native Philadelphian who met his wife, Betsy, while attending Kenyon College in Gambier, Ohio, Vitetta earned his law degree at Capital University in Columbus. While visiting friends in Beaufort in the early 1990s, they fell in love with the Carolina coast. Vitetta was hired by the Charleston County Public Defender's Office in 1993. Nine years later, he opened his own practice, thus discovering his true calling: family law.
After 11 years in criminal law, Vitetta was expecting private practice to be less emotional; he found just the opposite to be true. A year after he started practicing in Family Court, Vitetta "sought out a way to help people and maintain his integrity." In addition to litigation and mediation, he learned about collaborative practice and formed the South Carolina Collaborative Law Institute in 2004. He still serves on its board of directors.
The Vitetta Law Group, located on Daniel Island, focuses exclusively on divorce and family law, with an emphasis on collaborative practice. Betsy worked with Guy for eight years, and they both spoke passionately about the subject. He dove into the problems litigating family issues, such as cost, "slash and burn" mentality and the problems divorce causes or children. Vitetta mentioned that other than traffic citations, divorce is usually a client's first exposure to the law, so most people have no idea what to expect or what their options are.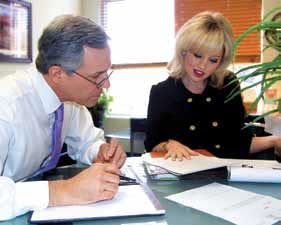 Collaborative practice is a legal process that supports the parties and their attorneys in resolving issues and avoiding litigation. According to Vitetta, collaborative practice is family oriented, effective and considerably more  ethical than most processes used to resolve family legal issues.
"Collaborative law is a rational approach in an emotional setting, and it requires hard work," Vitetta admitted. "It's more difficult but yields better results."
First, both the clients and their lawyers sign an agreement that if the process fails and the parties must litigate, the attorneys are required to help the clients' transition to trial attorneys. This is the main incentive for both the lawyers and the clients to complete the process successfully. The collaborative process is also effective in reducing the level of conflict. He mentioned that divorce coaches, counselors and financial professionals are included in the process; having each professional handle the part that they are trained for enhances efficiency.
"Divorce is traumatic," said Vitetta. "Trauma creates a fight or flight mind-set."
Occasionally, litigation is unavoidable and divorce can go to trial, but Vitetta wants what's best for his clients, especially the children, regardless of how the issues are resolved.
Betsy nodded and added, "Children are always affected by divorce."
Vitetta continues to promote collaborative law, mediation and ethical law practice by lecturing on various family law topics throughout the Lowcounty. An Internet search on Vitetta Law will produce multiple short videos discussing everything from child support to divorce proceedings. It's another way Guy Vitetta gives back to his clients and to the local community.
For more information about family law, visit www.vitettalawgroup.com or call (843) 302-2050.
By Joe Rhyne
Photo courtesy of the Vitetta Law Group