If you've never heard of Alex Trebek, you might want to skip this article. On the other hand, if you happen to know  the answers to such "Jeopardy-style" questions as which director won the Academy Award in 1962 (David Lean, "Lawrence of  Arabia") and where the largest stadium in the world is located (North Korea, 150,000 total capacity) Trivia Night in Mount  Pleasant might be right up your alley (a narrow path or passage between or behind two buildings)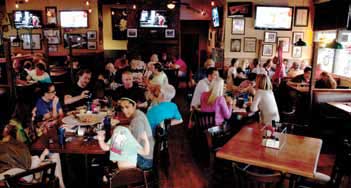 Under the auspices of TeamTrivia, headquartered in Atlanta, with franchises from Florida to Wisconsin, including one each  serving Myrtle Beach and the Charleston area, you can test your knowledge of the obscure, arcane and just plain trivial as a solo contestant or as a member of your very own team – and you can qualify for prizes of up to $2,000 while dining, drinking and having lots of fun.
Each face-off over little known facts features six three-question rounds plus a halftime' bonus question, and you get to bet points on each of your answers. Categories range from movies, sports and magazines to science, nature, geography and more, so being able to recall odd facts you never thought you'd stashed away in your memory – or having great team members who do – is a must. But at the end of the evening, a good time is all that really matters, and sometimes your wrong answers are more fun than the right ones.
A great place to start in Mount Pleasant is Steel City Pizza Co. on Ben Sawyer Boulevard. Not surprisingly, this  Pittsburgh-themed sports bar features pizza, and their 16-incher is enough for two really hungry players, with maybe a slice or two to take home. There's plenty more on the Steel City menu, including pastas, burgers, "weggies" and calzones. Plus, the upbeat, welcoming environment will make even novice Trivia Night players feel right at home. Wednesdays are game night, and the action takes place between 7 p.m. and 9 p.m.
In the Long Point area, the trivia hub is Big Game Bar & Grill on Belle Station Boulevard. In addition to a very busy Wednesday Trivia Night, Big Game offers Buzztime online trivia continuously, and players can log in, play against  contestants at other bars and restaurants across the country, then see the correct answers flashed on one of Big Game's 17 TV screens. On Mondays during happy hour, 4 p.m. to 7 p.m., Big Game adds its own bonus wrinkle. Patrons play for the opportunity to snag a prize from the bar's fishbowl and can go home with fun items from hats to T-shirts and more. Bar food, including burgers and wings, are on the bill of fare and, according to manager Addie Culler, the atmosphere is always festive, and the servers are careful not to intrude while players are wracking their brains for answers.
If you like your trivia with a side order of sushi, your best bet is Locals Bar, located in the Queensborough Shopping Center just off Highway 17. Acclaimed as the best sushi bar in the Lowcountry three years running, Locals recently underwent an exciting renovation, adding a second sushi line. Between questions and answers, try a Tuna Tower, a Lobster for Two Roll, a Crazy Boy Roll or any of the restaurant's Competition Rolls. Meat eaters are welcome as well. Beef Tataki is only one of Locals' nonsushi offerings. According to manager Shawn Sherman, the venue is packed on Trivia Night, so a pre-7 p.m. early arrival might be in order.
Another popular bistro, Dog & Duck, features Trivia Night Mondays at both its Mount Pleasant locations – Belle Hall and ark West. It's a crowd pleaser, so eager contestants are advised to arrive before the 7 p.m. start time to get good seats. On Thursday nights, Dog & Duck doubles down with a Music Trivia Night, where the crowd can listen to great tunes and win in-house cash. While playing, contestants can munch on their selections from the restaurants' encyclopedic menu of terrific bar food. Two favorites: the best Fish & Chips this side of Trafalgar Square and the whimsically-named Hillbilly Hamburger, a delicious fried bologna sandwich.
Mount Pleasant's Louise Pennisi, who, with her husband, Sal, is a member of "Team Clueless," playing regularly at Steel City Pizza Co., considers a night of trivia always a night well spent.
"We enjoy two moments especially – when you retrieve a correct answer from the dusty recesses of your brain, something you were surprised you knew and actually could recall, and the groans when you try to choose  between two answers and submit the wrong one," she explained. It sounds as if the Pennisis are ready for "Double Jeopardy." And that's not trivial.
For additional information on Trivia Nights throughout the tricounty
area and Myrtle Beach, visit teamtrivia.com