If you've ever fantasized about joining Cirque du Soleil or passed a kids' birthday jump castle and wished you weren't too big to get in on the fun, your dreams can now come true – right here in Mount Pleasant.
Whether you are 8 or 80, you can experience a freedom that's as close to weightlessness as most of us will ever get at Sky Zone, the Lowcountry's first indoor trampoline park.
Located at 411 Wando Park Blvd., just off Long Point Road past Interstate 526, Sky Zone is the latest version of a concept that began as the brainchild of a Las Vegas entrepreneur. He envisioned a new and different sports league based on an ingenious set of rules with a playing field composed entirely of trampolines.
The league failed to materialize, but everyone who heard about the trampoline "arena" wanted to try it. It became apparent that although the sports league was a non-starter, trampoline parks could be a draw for the general public.
Today, Sky Zone's parent company has facilities in the United States, Canada and Mexico, and the popularity of its "non-sport sport" continues to grow.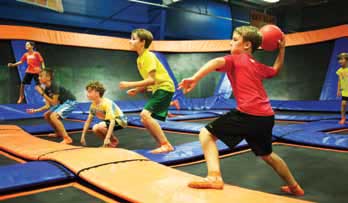 Mount Pleasant's Sky Zone offers 15,000 square feet of fun. The indoor trampoline park is surfaced entirely in, well, trampolines. Even the walls. And there's a pit filled with 10,000 foam cubes into which jumpers can "dismount" from their springy surfaces.
Comparing Sky Zone to the backyard trampolines that have been around for the past half century or so is like comparing a Model T to a 2014 Ferrari. As great exercise, challenging sport or just plain fun, nothing beats soaring from the trampolines' springy surfaces, doing flips in midair and rebounding off the elastic walls.
In addition to the freestyle jumping, Skyzone offers activities from skyrobics, a trampoline workout that works all your muscles and gets your heartbeat racing, to the sky slam, in which players can soar and dunk like Kobe or even play fast-paced, challenging 3-D dodgeball.
Dodgeball has quickly become one of Sky Zone's most popular attractions. Leagues are being formed with an eye on regular team competition once schools are back in session.
Laura Sullivan, who owns the facility along with her husband, Brad, said they selected Mount Pleasant because of its demographics. The town has a large number of young families with school-age children, the target audience for trampolining.
That said, Sullivan was quick to point out that Sky Zone is not just for kids.
"It's for the whole family, whether parents are jumping with their kids or just enjoying being spectators," she said.
Safety is always a prime consideration at Sky Zone, she added. Rules and regulations for safe jumping are enforced by a team of "jump monitors" who are on-site each day.
Mount Pleasant has received Sky Zone's message. The facility has been thronged with jumpers since it opened its doors. Walk-ins are always welcome, but buying tickets online is a better idea.
For additional information, visit www.skyzone.com/Charleston or call (843) 588-5789.