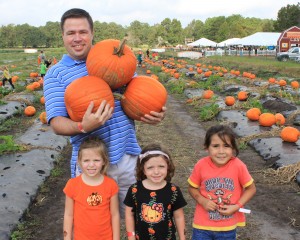 The Boone Hall Pumpkin Patch started small but is now the Lowcountry's largest fall festival and an annual tradition for many area families.
The Pumpkin Patch, which will mark its 18th year this fall, also offers a wide variety of attractions and events for the whole family.
The centerpiece of the annual event is an eight-acre corn maze that is among the largest in the Southeastern United States. This year the maze will feature a unique design presented by the two Mount Pleasant Chick-fil-A locations.
"Chick-fil-A has always been a company that focuses on serving families and communities," said John Wrenn, operator of the North Mount Pleasant store. Josh Malone, operator of the central Mount Pleasant location, added, "And the Boone Hall Pumpkin Patch is a great event that shares those same values. It's a good fit."
This is the tenth year a corn maze has been a part of the fall festival. It will be designed by The Maize, Inc., of Spanish Fork, Utah, which cuts more than 250 corn mazes worldwide each year. The cornfield used for the maze was planted at the end of July; its growth and development have been managed by the Boone Hall Farms staff.
One reason the Boone Hall Pumpkin Patch draws visitors of all ages from throughout South Carolina is that it is more than just a pumpkin patch. For instance, a brand new jump pillow, the largest in the state, will provide plenty of fun for kids and adults alike. Everybody can board the family friendly Monster Hayride, which will feature new scenes this year as the ride winds through the spooky woods of Boone Hall. The Giant Slide Tower is three stories tall and features slides on two different levels. Other attractions include The Hay Mountain, two rock climbing walls, a tire climb and sand pit play area, King of the Mountain, a giant rope spider web, a goat walk and rabbit enclosure and more. All of this is included with the price of admission.
And, of course, there will be plenty of pumpkins available – to be purchased by the pound
The Boone Hall Pumpkin Patch and Chick-fil-A Corn Maze will be open every day from Oct. 1 through Oct. 31, from 9 a.m. to 6 p.m. Monday through Saturday and 11 a.m. to 6 p.m. Sunday. Admission is $10 for everyone 3 and older, except during the Two For Tuesday special. Children 2 and younger can join the fun for free as long as they are with a paid adult. On Tuesdays, one adult will be admitted free with each paid child.
The Boone Hall Pumpkin Patch and Chick-fil-A Corn Maze is located on Highway 17 in Mount Pleasant, a half mile north of Long Point Road. For more details, visit www.boonehallpumpkinpatch.com.
Photo provided by Boone Hall