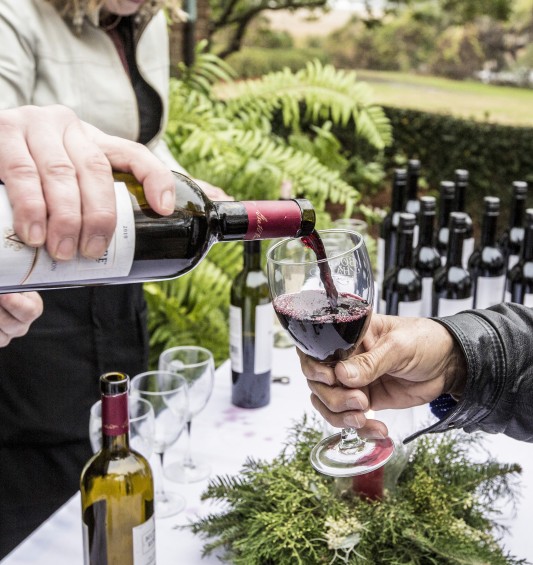 Lary Petterson never tires of telling the story of Lucas & Lewellen Vineyards.
Petterson is the southern regional manager of L&L, a family-owned business based in Solvang, California. The vineyard stretches 400 acres across Santa Barbara County, with 25 different grapes in the soil right now. The business is named for its founding owners: Louis Lucas, one of the county's first grape growers, and Royce Lewellen, a retired judge. Megan McGrath Gates has been director of winemaking since 2007.
But what does all this have to do with the Carolina Lowcountry? Petterson is bringing a taste of the vineyard with him when he comes to Boone Hall Plantation this December to participate in Wine Under the Oaks.
"I jumped on it as soon as I could," he said. "That's a super cool event and I was just blown away by Boone Hall Plantation."
Wine Under the Oaks, a holiday staple East of the Cooper, will be held Dec. 7 on Boone Hall's back lawn and will feature wine samples from a wide range of distributors and wineries. The event includes a live concert performance by the band Spyro Gyra; wine and cooking demonstrations presented by Charleston chefs; oyster sampling by St. Jude Farms; desserts from pastry chef Andrea Upchurch; complimentary "bubbles" by Biltmore Estate; and more. The profits from the event will benefit the American Red Cross.
During Wine Under the Oaks, in its 11th year, the plantation will be festooned with holiday décor to kick off the season. Jadie Rayfield, who is in his third year as the event manager, said the ambience at Wine Under the Oaks puts people in "the festive spirit."
"It's the only event where you get a classic band, exemplary wines and great chefs – to bring all that into one venue is nothing but superb," he said.
This year's Wine Under the Oaks will be a first for L&L. Petterson, invited by Rayfield to be a part of the event, describes L&L wines as "very feminine, very silky and really approachable," adding that they plan on pouring five different wines, including the one featured in "Sideways," a 2004 comedy-drama that follows two men in their 40s who take a weeklong trip to Santa Barbara County wine country. The film, featuring Paul Giamatti and Thomas Haden Church, was nominated for two Academy Awards.
"After all, you can't make an authentic movie about Santa Barbara and pinot noir and not include Louis Lucas," Petterson said.
When it came to playing a role in Wine Under the Oaks, there was no hesitation for Petterson.
"As soon as we were offered, we took it because that's a great event, and we always try to support charities and donations with wine," he said. "It's a perfect fit for us."
Wine Under the Oaks, scheduled from 1 p.m. to 5 p.m., is for adults 21 and older. The gates open at 12:30 p.m. Tickets are $48.50 each, and it is a rain or shine event. For more information, visit www.boonehall.com and click on Special Events.
Story by Monica Kreber.
Photo provided.