Robb Walker's newest  restaurant is unlike any other in Mount Pleasant. The walls are adorned with photos of the people who were running the world in the 1940s. Traditional American fare is on the menu, but so are meals more often found in the British Isles. Diners can enjoy a game of darts, and the brand of football most often shown on the TV screens is the version Americans call soccer.
And the restaurant has a funny name that isn't even spelled right if you put your faith in American dictionaries.
Nonetheless, My Father's Moustache has been making a splash since it opened on Ben Sawyer Boulevard in February, replacing J.Paul'z, which Walker also owned and operated. After visiting several restaurants in England, Ireland and France last summer, he and his wife, Wendy, decided to ditch their upscale eatery in favor of a replica of a British pub.
"Sometimes you try something and it doesn't work. You can run and hide or you can adapt and change. We chose to change," Walker explained
And change they did. The menu at My Father's Moustache features British favorites such as fish and chips, Yorkshire pudding and shepherd's pie. There's also 16 beers on tap, eight of them of English or Irish origin, and a selection of Scotch and Irish whiskeys.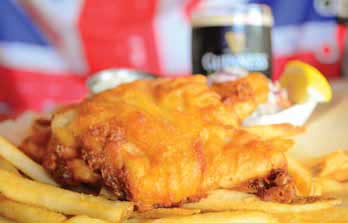 If you like the atmosphere but crave American-style food, you can go with one of eight sandwiches, including the T.E.D. (Thanksgiving Every Day), a combination of roast turkey, stuffing, gravy and cranberry mayo. Several salads are on the menu, along with eight burgers, the Bison Burger and the Colorado Lamb Burger among them.
The English fare, according to Walker, is authentic. He said many customers from the other side of the Atlantic have commented that the fish and chips compare to that served in Britain. He added that an Englishman recently visited My Father's Moustache and asked if the shepherd's pie was made with beef or lamb.
"I told him I've never seen a shepherd guarding a flock of cows," Walker commented. "Therefore ours is done with lamb."
The authentic British food and adult beverages have attracted a large number of avid soccer fans. The Charsenal, local fans of the Arsenal, a successful English soccer team, have made My Father's Moustache their home bar. Up to 100 animated fans might show up at a time to watch a big match.
"They're different from baseball or football fans," Walker said. "They come in wearing their team's jerseys and jackets and they sing and chant."
He said he even opens the restaurant early if, for instance, here's a big match on TV at 8 a.m. Eastern time.
Walker said he came up with the moniker while looking at a photo of his great grandfather that he keeps on his desk. Robert Jefferson Walker II sported a substantial tuft of hair on his upper lip.
"I kept looking at that picture and saying to myself: 'That's my father's father's father's mustache,'" he said.
"British pubs have weird names," he added. "We wanted something that didn't make sense, but, after you thought about it for a while, made perfect sense," Walker explained, sort of.
My Father's Moustache is located at 1405 Ben Sawyer Blvd. To check out the menu, visit www.myfathersmoustache.com or call 843-884-2425
By Brian Sherman