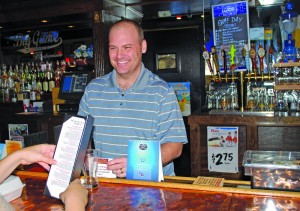 When he lived in Denver and worked in the corporate world, Addie Culler's basement was a shrine to football, basketball, baseball and ice hockey, complete with memorabilia, a built-in bar and, of course, an area dedicated to the American sport of watching American sports on television.
He's moved from Colorado to South Carolina, but Culler's life isn't all that different these days. As the owner of Big Game Bar & Grill in Mount Pleasant, he has 16 televisions instead of one. Much of the memorabilia is the same, though; he simply moved it from the Rocky Mountains to his restaurant and sports bar in the Carolina Lowcountry.
"It feels homey in here. It's like coming into someone's home to watch a football game," said Culler, who purchased what once was Foster's in July. "It's a family-friendly place. It's always fun here. There's probably going to be some discussions among people pulling for opposing teams, but they're respectful of each other. They're just sports fans."
Culler said Big Game Bar & Grill is generally busiest on Saturdays, when South Carolina and Clemson fans pile in for food, fun and beverages. He added that Gamecocks and Tigers aren't his only customers. His regulars include a smattering of other college fans, along with a group of 50 to 75 loyal Nebraska supporters.
His customers can see just about any college game they choose. For instance, the recent South Carolina/Coastal Carolina game was available in the Charleston area only on Pay-Per-View, so he purchased the package to make sure his Gamecock and Chanticleer fans would be able to watch the game. On Sundays, all the NFL games are available.
People don't come to Big Game Bar & Grill just for the opportunity to watch sports on TV. There are also kid-friendly video games and a pool table, a varied menu and an extensive choice of beer and other adult beverages.
Big Game offers 16 taps and an array of craft beers, including New Belgium Shift and Konig, as well as several domestic beers. The menu features appetizers such as Addie's Loaded Cheese Fries; Hank's Smoked Gouda Macaroni Bites; and a Jalapeno & Cheese Stuffed Pretzel, as well as entrees ranging from Fish & Chips to Beer Battered Chicken Tenders.
And, of course, the big game wouldn't be a big game without burgers, fries, wings and hot dogs. However, if you're just dropping by for lunch or dinner, an array of sandwiches and wraps, from Reubens to Philly cheesesteaks to fish tacos, as well as salads, also are popular choices.
Happy hour, with a special menu, is every weekday from 4 p.m. to 7 p.m., and Culler said Big Game Bar & Grill would soon feature a late-night menu, from 10 p.m. or 11 p.m. until closing time at 1 a.m.
"It's not gourmet food, but it's really good bar food," Culler said. "We have a diverse menu and great service, and it's a great place to watch a game. It's a comfortable place to come and eat."
Big Game Bar & Grill is located at 545 Belle Station Blvd., just off Long Point Road. For more information about Mount Pleasant's newest sports bar, call (843) 388-5711.
By Brian Sherman
Photo by Brian Sherman