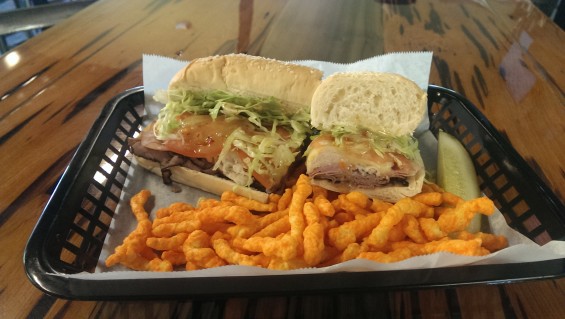 There's a new spot in town to grab a sandwich at lunch, grab a craft beer at happy hour and grab a seat for football games on the weekend. That spot is Momma Goldberg's, recently opened to much fanfare from Mount Pleasant residents – and other Lowcountry residents as well, thanks to its proximity to the Ravenel Bridge. Owner Mike Green has big plans for his deli and hopes to create a niche with the local market with the help of quality menu items and a fun atmosphere.
Green, a native of the Charleston area who grew up in West Ashley and Johns Island, spent his teen years in Auburn, Alabama. He became friends with Jason DeMint, whose father, Don DeMint, began the first ever Momma Goldberg's Deli franchise back in 1976. Today, there are about 31 Momma Goldberg's restaurants throughout the country, including the original version near Auburn University. Green was inspired to open a Momma's in Mount Pleasant because, he said, "of the benefit in being part of the East Cooper community."
Choosing a sandwich or salad from the extensive deli menu at Momma's can prove to be difficult. According to Hollis Arnold, the general manager, plenty of customers opt for either the Momma's Love sandwich or the Turkey Delight. Both are piled with quality meats and fixings, including the ever-popular "Momma's sauce," a zesty Italian. Meanwhile, Green enjoys the Reuben and the meatball sub.
"I just got off the phone with Limehouse Produce," Green commented. "We try to use local lettuce and tomato when we can. I want to maintain a local feel, even though Momma Goldberg's is a franchise."
So far, Green has the right idea when it comes to suiting the taste of locals. A generous selection of craft beer, from porters to IPAs and everything in between, is constantly rotating on the taps, and a full liquor bar will arrive in time for football season. Green looks forward to concocting a few specialty cocktails, as well as offering food and drink specials during games.
"The top of our bar came out of the South Edisto River," Green remarked, tracing the wood grain with his finger. "I met a guy at the Southeastern Wildlife Exposition who makes furniture, and I asked him to make us a bar top."
I sat at the fancy bar top and sampled some of the popular items on Momma's menu, including their famous nachos, which are cheese Doritos smothered in more cheese and covered in jalapeno peppers upon request (mine had plenty of peppers, of course). For lighter fare, try the grilled chicken salad, the Momma's Western or the chicken salad plate. You can also build your own sandwich.
Momma's has happy hour every weekday and live music on Thursday, Friday and Saturday evenings. They also just started hosting team trivia on Mondays. But if you ask Mike Green what he's most looking forward to, it's football season – and he wants all kinds of fans to feel welcome at Momma's.
"I did go to Auburn, but we're a destination for all teams," he pointed out. "Clemson, Carolina – college or professional. Everyone is welcome."
It's just how Momma would want it: good food and plenty of hospitality.
Visit Momma Goldberg's Deli at 230 Mathis Ferry Road, call ahead at 843-352-7939 or take a look at the entire menu by visiting www.mommagoldbergsdeli.com.
By Denise K. James
Photo provided by Momma Goldberg's.