Recently, I told our publisher that I believe Mount Pleasant is in the midst of a renaissance. We are enjoying the benefits – and weathering the challenges – of new people and new businesses moving into the area, and one place where these nuances are perhaps most apparent is on the culinary front. With an abundance of new chefs, new ideas and new restaurants comes the perk of better – and fresher – food.
The farm-to-table phrase has been popular for several years now, but the results of this movement are still evolving. More than a handful of restaurants in East Cooper have responded by consistently providing fresh, local and regional meats and produce for their patrons. We're lucky, of course, to have a bevy of suppliers in the Lowcountry – and a few East of the Cooper, such as Boone Hall Plantation in Mount Pleasant and Blue Pearl Farms in McClellanville. Thanks to the farmers who tend our coastal land, Lowcountry chefs can bring fresh bounty to enthusiastic diners.
The five restaurants we profiled in our first farm-to-table feature are not the only establishments in East Cooper offering local ingredients on their menus, but their different approaches – Lowcountry ingredients prepared with French flair; grass-fed burgers; local vegetables; fresh seafood – are a reminder that local food can be prepared and enjoyed in a multitude of ways.
Farm to French
Bistro Toulouse
"Toulouse" is a city in the South of France, but Bistro Toulouse is a restaurant newly minted in Mount Pleasant – and ready to serve up some delicious local items with French flair.
Open for about six months, the restaurant is making a habit of using plenty of regional items – even shrimp from Shem Creek and Beaufort.
"We wanted a French-style restaurant that still used ingredients from the Southeast," explained Candice Mahala, who co-owns the restaurant along with Matthew Schulz.
Indeed, some of the centerpieces of entrees at Bistro Toulouse, though exotic, are surprisingly local. The quail is from Manchester Farms in Columbia, South Carolina, and the pork, which Schulz uses for homemade sausage, comes from Heritage Farms Cheshire Pork in Seven Springs, North Carolina. Vegetables are typically picked up at Boone Hall in Mount Pleasant or at Mount Pleasant's Farmers Market on Tuesdays.
"I try to scout out local produce at least a couple of times each week," Schulz said.
A key menu item at Bistro Toulouse for late summer and early fall is ratatouille, with seasonal vegetables such as eggplant, bell peppers and onions. As the weather gets cooler, patrons will enjoy beef bourguignon, stews and autumn vegetables such as spaghetti squash and walnuts.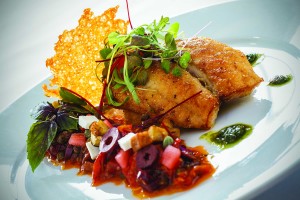 The Garden (and Water) Out Back
Long Island Cafe
Though the Long Island Cafe has been part of the Isle of Palms landscape for about 30 years, chef and owner Ravi Scher has spent the last two years breathing new life into a local favorite. That life includes the freshest seafood and produce, which Scher believes are his keys to success.
"I grew up on a farm; my dad was a market farmer," he said. "Now I make it a point to get whatever is fresh and good. If the ingredients are above average, it makes my job easier."
One of Scher's focal points at Long Island Cafe is sourcing fresh seafood. For example, he has built a relationship with Tobias Seafood – near Breach Inlet – and offers fresh clams from the company on the Long Island Cafe menu. Produce often comes from Sweetbay Farms, Boone Hall and Limehouse Produce. Scher also enjoys grabbing certain menu items from his own yard.
"We have eggplant in our garden out back," he remarked.
Scher said that the catchphrase "farm to table" might not always be on the tip of everyone's tongue in the Lowcountry, but he believes that the sentiment is here for good.
"The phrase will pass, but the concept of getting our food locally will stay around," he mused.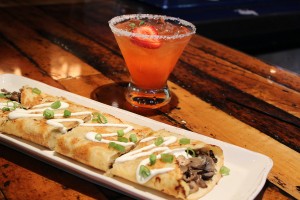 Sol Farm-to-Table
Becoming a farm-to-table business came naturally to Sol Southwest Kitchen and Tequila Bar. They've joined the movement in an effort to support local farms and provide fresh dishes. Though not exclusively farm-to-table – because they wanted to be able to offer reasonable prices – Sol welcomes every opportunity to provide local produce in the form of unique dishes. One of the restaurant's most popular dishes does just that. Paired with smoked Gouda cheese, the Wild Mushroom Quesadilla features shiitake and oyster mushrooms cultivated at Mepkim Abbey. A good choice to go along with this smoky dish is the seasonal strawberry margarita, made from Boone Hall strawberries. Other Lowcountry-fresh ingredients used in Sol dishes include bibb lettuce, sweet potatoes, blueberries, strawberries, mushrooms and zucchini, provided by Limehouse Produce, Mepkin Abbey, GrowFood Carolina and Boone Hall. Co-owner David Clark believes that the farm-to-table trend will continue as it becomes more of the norm in the restaurant industry. He believes it to be not only smart business but, more importantly, the neighborly thing to do.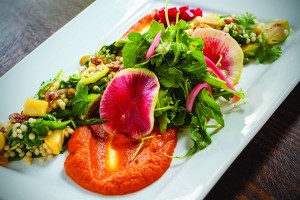 Fresh Meat and Veggies
The Granary
Brannon Florie, owner and chef at The Granary in the Belle Hall Shopping Center, followed his dream of opening a charcuterie restaurant – but he modified it a bit with other options.
"Some people want vegetables, so we have a lot of vegetarian options," he said. "But I would say that our menu concept is cured meats and plenty of produce."
Visitors to The Granary can enjoy their cured meats while knowing its source is local. In fact, Florie described how the staff receives whole animals from nearby farms and breaks them down into charcuterie. Common animal farm suppliers to The Granary include Thornhill Farms, Legare Farms, Stillwater Farm and Keegan Filion Farm.
As for the savory vegetables paired with your entree, these are likely to be the bounty of Boone Hall, Ambrose Farms or GrowFood Carolina.
"We consistently have certain proteins. We always have a pork chop on the menu, for example, but the vegetables and the presentations change with the week," Florie noted.
For fall, patrons of The Granary can expect braised dishes, but Florie urges everyone to be ready for surprises as well.
"I'm very last minute when it comes to changing the menu," he said. "I'm changing the menu right now for tomorrow. Ha."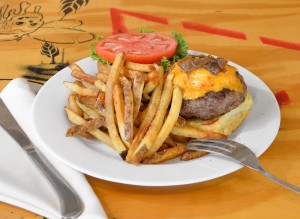 A Complete Cycle
Triangle Char and Bar
The staff at Triangle Char & Bar decided six years ago that they wanted to offer customers a little something special – something like grass-fed beef, which is now what the Mount Pleasant and West Ashley restaurants are known for. Mike Lotz, director of operations for Mount Pleasant's location – as well as a native of the Midwest – got to work doing the proper research on grass-fed beef and what it would take to bring this commodity to the popular restaurant.
Today, Triangle serves grass-fed hamburgers and cheeseburgers, along with plenty of local produce. Providers for beef are McCutchen Farms in Kingstree, South Carolina, and Hill Creek Farms in Hartsville, South Carolina. Meanwhile, fruits and veggies come from local sources such as Ambrose Family Farm, GrowFood Carolina and Limehouse Produce.
Fresh fall menu items to look forward to at Triangle are acorn squash and Brussels sprouts, which chef James Sanders plans to present several ways. Lotz agreed that the Triangle menu "is a sounding board for seasonal items."
It's also worth noting that any food left over from a meal at Triangle turns into compost. In fact, Lotz pointed out that more than 70 tons of raw food waste were composted for Charleston County by Triangle Char & Bar in the last four years.
"We try to be a complete cycle – farm to table and then table back to the farm," Lotz said. "And we form a partnership with our farmers."
By Denise K. James
Photos provided by Sol, credit to James Stefuik for Long Island and Granary photos, and credit to William Quarles for Bistro Toulouse and Triangle photos