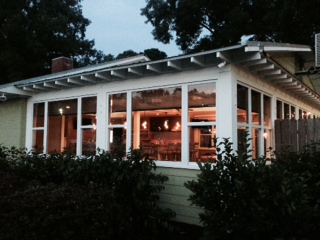 One way to take advantage of the Lowcountry's magnificent weather is to enjoy an excellent meal under the sun or stars. That certainly is a possibility at the Rusty Rudder, one of Mount Pleasant's newest restaurants.
Counting the dozen or so seats at the Tiki bar, around 100 people will be able to soak in the outdoor ambience on the huge patio behind the main building. Shaded by a few trees and surrounded by jasmine-covered trellises, it will be among the largest outside dining options in the Charleston area. Inside, another 85 to 90 diners will be able to choose from a Lowcountry-themed menu offering more than a few interesting twists.
Vacant for almost a year, the former home of 17 North sprung back to life early in 2014. The Rusty Rudder was scheduled to open its doors in June in one of the fastest-growing parts of Mount Pleasant. With Carolina Park and other burgeoning subdivisions nearby, the owners are confident they can replicate the success they attained in North Carolina.
"There's lots of energy and activity headed in this direction," said Brian Johnston, who, along with Eric Paul, owns the first Rusty Rudder, located on Lake Norman, just north of Charlotte, and the second one in Mount Pleasant.
"We walked into the area behind the building, and we had a vision," Paul added.
They both have connections to the Charleston area. Paul attended Johnson & Wales University when it was located in the Holy City, while Johnston, whose parents live on the Isle of Palms, is in the process of buying a home in Darrell Creek. And they both agree that getting involved with Mount Pleasant, schools, organizations and charities will be a vital part of running a successful business.
"It's important to be part of the community," Johnston commented. "We want to be involved as much as we can, and we're happy to help in any way we can."
The Rusty Rudder menu will be similar to the menu at the Lake Norman location, a thriving business for the past 12 years. However, it will feature more of a Lowcountry flavor, "adapted to fit here," according to Executive Chef Josh Arnold, who worked at the Rice Paddy in Georgetown for six years. Signature dishes include a sweet potato soufflé, topped with lump crab meat, a lime cream sauce and country ham; shrimp and grits; pork belly tacos; fish tacos; and lobster rolls. The Rusty Rudder also will be serving oyster pot pie, based on a traditional Gullah recipe, along with a wide range of seafood, steaks, burgers, salads, appetizers and desserts.
Arnold said almost everything the restaurant serves will be made in-house, and that he'll purchase as much as possible from local farmers and fishermen. He will even be buying from a farm in Georgetown that will grow free-range chickens to his specifications.
"One cool thing is that we'll make our own bacon," he added. "We'll cure it and smoke it right here."
"This will be my dream kitchen," he concluded. "It appeals to the redneck in me, but it also appeals to the chef in me."
Other key staff members include Operating Manager and General Partner Tom Brand; Assistant Manager Christi Miller; and Bar Manager Michael Kraus.
The Rusty Rudder is located at 3563 N. Highway 17 in Mount Pleasant. The restaurant is open for lunch and dinner every day and for brunch from 10 a.m. to 2 p.m. on Saturday and Sunday. For more information, visit www.therustyrudder.net
By Brian Sherman