Comfort Cocoa
1 1/2 oz. Southern Comfort
Hot Chocolate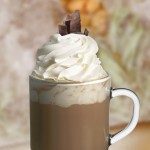 Pour Southern Comfort into a mug of hot chocolate and stir. Garnish with whipped cream and chocolate shavings
Non-alcoholic version:
Winter Warmer
In a mug with 6 ounces hot cocoa, add peppermint syrup to taste.
Garnish with peppermint sticks.
Tuaca Hot Apple Pie Recipe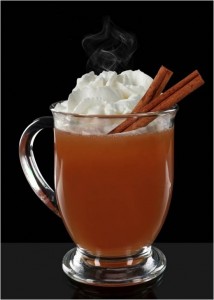 1 1/2 oz Tuaca
5-6 oz warm apple cider
whipped cream
cinnamon stick
Pour ingredients into a mug.
Garnish with whipped cream and a cinnamon stick.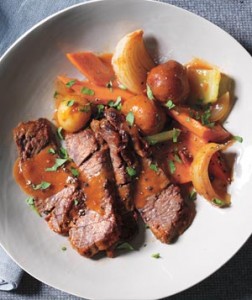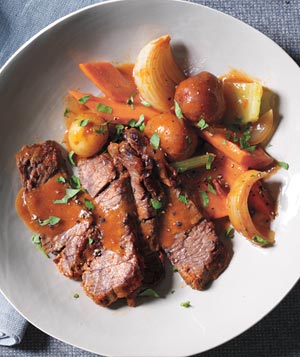 Melt in Your Mouth Pot Roast
3 lb beef chuck roast, tied
1 pound carrots, peeled and cut into 2-inch pieces and halved
1 pound baby potatoes
1 medium onion, cut into ½ inch wedges
2 stalks celery, cut into 1-inch pieces
2 bay leaves
2 tbs cornstarch
¼ tomato paste
1 tbs chopped fresh parsley
1 ½ tsps salt
½ tsp pepper
1 cup water
Directions:
In a 4- to 6-quart slow cooker, whisk together the tomato paste, cornstarch, and 1 cup water. Add the carrots, potatoes, onion, celery, and bay leaves and toss to combine. Season the beef with 1½ teaspoons salt and ½ teaspoon pepper and set on top of the vegetables.
Cover and cook until tender, on low for 7 to 8 hours or on high for 4 to 5 hours (this will shorten total recipe time). Let the meat rest for 10 minutes before discarding the kitchen twine and slicing the meat across the grain. Serve with the vegetables and cooking liquid and sprinkle with the parsley.
Stuffed Breakfast Bubbles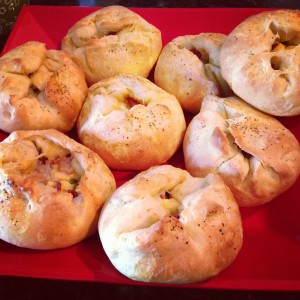 1 8 ct. Pillsbury Buttermilk Biscuits
Shredded Mexican Cheese Blend
Frozen Shredded Hash Browns
1 package of Cooked Bacon
5 Scrambles Eggs
1 Egg for eggwash
Directions:
Preheat oven to 425 degrees
Cook bacon to a crispy finish. Cook hasbrowns and scramble eggs. Have cheese ready.
On a greased baking sheet, flatten each biscuit out.
Take a portion of each of the ingredients and place on flattened biscuit
Once each biscuit is filled, pinch and pull the sides to enclose the biscuit
Turn over and place the pinched side down on baking sheet
Wash the top with egg wash and sprinkle salt and pepper
Bake for 8-10 minutes or until golden