A trip to the dentist is no longer a dreaded experience. At Garner Family Dentistry, patients are welcomed into a stress-free environment by friendly staff, expert professionals and gentle, caring assistants.
Raised in Omaha, Nebraska, Cynthia Garner earned her degree at the Creighton University Dental School, a nationally recognized institution noted for its academic reputation and rigorous curriculum. In 1995, her graduating class received the highest operative dental score in the nation. From Creighton, she went on to complete a residency program at prestigious Temple University in Philadelphia.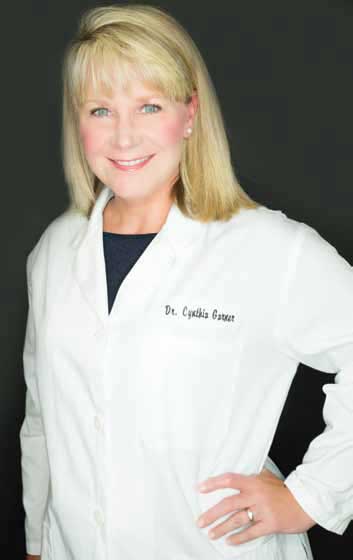 Her husband, Alan Garner, was an Air Force officer from the Isle of Palms, and, like most military families, the couple moved a lot. Dr. Garner worked as a managing and associate dentist in various practices around the nation. When her husband retired, they settled in Mount Pleasant and established Garner Family Dentistry.
The practice uses state-of-the-art technology to provide veneers, crowns, bridges, fillings, implants, dentures, whitening, checkups and periodontal exams. Highly-trained associates offer patient education to enhance the natural beauty of teeth to maintain a healthy, beautiful smile.
Dr. Garner devotes 100 hours each year to advanced education. She has attended the Frank Spears hands-on workshop in Scottsdale, Arizona, studying advanced techniques in dental occlusion and cosmetic dentistry. She is a member of the Seattle Dental Club, which is committed to the advancement of dental excellence. And Garner Family Dentistry's website educates patients by offering videos on a variety of dental procedures.
Dr. Garner pointed out that it is important for children to see a dentist for the first time when their baby teeth have come in and absolutely essential once permanent teeth begin to grow. Adults should visit a dentist twice a year for routine checkups. She added that gum care is important as well in maintaining overall health and that sometimes X-rays are required to get a better view of potential problems. For example, many teenagers need to have their wisdom teeth pulled  to make room for other teeth to come in.
According to Dr. Garner, elderly patients might be susceptible to a variety of dental problems. Root caries, cavities that form on the roots of teeth, are common among senior citizens because of bone loss and because their gums tend to recede. Treatment includes fluoride rinses, brushing twice a day and flossing. She went on to say that patients with arthritis might want to consider using electric toothbrushes, and she noted that partial and full dentures need to fit properly so people can properly chew their food and avoid digestive issues.
"The mouth is the pathway to overall health," Garner remarked.
Dr. Garner lives in Mount Pleasant with her husband, daughters ages 12 and 14 and a lab named Buster.
For more information visit www.cynthiagarnerdentistry.com or call (843) 884-6002. Garner Family Dentistry is located on 1059 Chuck Dawley Blvd.