There was a time when hearing loss was simply considered to be an aspect of growing old, not unlike gray hair and wrinkles. That's no longer the case. Medical professionals now know that when you have trouble hearing, there might be something more serious going on than just missing the sounds of barking dogs and singing birds.
According to Dr. Mary Anne Larkin, who has been taking care of patients at Advanced Hearing Care in Mount Pleasant since 1993, hearing loss is often an early warning sign that cardiovascular disease, dementia, diabetes or kidney disease could follow. In addition, she pointed out, untreated hearing loss puts a person at higher risk for depression, anxiety and relationship issues.
Which, she said, is why you should talk about your hearing problems with a trained audiologist rather than with a person who sells hearing aids for a living.
"If you have a hearing problem, we examine you in a health care context and not in a retail-oriented context," Dr. Larkin explained. "We follow evidence-based scientific protocol when we test and treat our patients."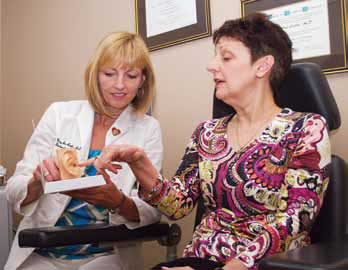 In other words, Advanced Hearing Care does more than just sell and fit technologically advanced hearing aids. Dr. Larkin and her fellow audiologist, Dr. Lainey Bruhn, also provide hearing evaluations, a variety of tests to determine why you can't hear as well as you would like to and rehabilitative and preventive counseling to help you deal with and improve your hearing situation.
Dr. Larkin pointed out that people lose their hearing for reasons other than hidden health problems. Their problems could be genetic, or they might be caused by playing music too loud or by participating in occupational or recreational activities such as playing in a band, mowing the lawn, hunting or target shooting.
She added that hearing even can be affected by what you eat, citing five foods that enhance auditory health: omega 3 fats and vitamin D, which you can get by eating fish such as salmon, tuna, trout and sardines; anti-oxidants and folic acid, which are found in spinach, asparagus, beans, broccoli, eggs, liver and nuts ;magnesium, available in bananas, potatoes, artichokes and broccoli; zinc, which is found in dark chocolate and oysters; and vitamins C and E, which you can get from vegetables such as peppers and fruits such as oranges.
"Eating a heart-smart diet can help," Dr. Larkin commented. "We hear with our ears, and we process with our brain. Reduced hearing compromises your brain health. We want to keep our brains as sharp and alert as they can be."
Regular checkups are also an important part of hearing health, according to Dr. Larkin. She said people should visit an audiologist at least every five years, and every three years after they reach their 55th birthday. Those who notice a decrease in hearing should check in for a checkup every year.
Those who notice a decrease in hearing should check in for a checkup every year. "People visit a health care professional for their eyes and teeth every year," she said. "Why wait until you notice a problem to get your ears checked?"
"Don't take your hearing for granted," she concluded. "Once you lose it, it's gone. It's irreversible. Having a hearing checkup is all about making sure you are keeping your hearing working at its best."
Advanced Hearing Care is located at 900 Johnnie Dodds Blvd., suite 101. To find out how you can help protect your hearing, visit www.advhearing.com or call (843) 606-6306.
By Brian Sherman