Dr. Susan Doyle is so enthusiastic about the benefits of chiropractic care, you'll want to make an immediate appointment. Even if you're eating well and exercising, you can do more to promote a healthy body and live life to the fullest.
As a chiropractic physician, Dr. Doyle knows firsthand how wonderful it can be to live pain-free and move easily through life. She learned at a young age that traditional medical care does not have all the answers.
"At the age of 9 or 10, I was diagnosed with scoliosis and told that I'd never be able to run or take part in sports," Dr. Doyle said, expressing how devastating that news was for a young child.
"My mother was a pharmacist and had a friend who was a chiropractor, so we turned to her for help," she continued. "After three years, my scoliosis was reversed, I was pain-free and able to enjoy many different sports."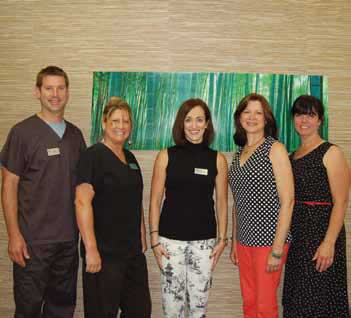 That positive experience spurred Dr. Doyle to become a chiropractor herself, and two years ago she was inspired to open her own business. Absolute Wellness Center is dedicated to offering a variety of natural remedies for complete body health.
"Many people think that chiropractic only helps those with back pain, but it does much more than that," she said.
The spinal column is truly the pathway to optimal health. By resolving issues that hinder the natural healing ability inherent in each of us, pain can be alleviated and health can be restored. In addition to conditions such as slipped discs and back pain, chiropractic treatment can benefit those suffering from allergies, arthritis, fibromyalgia, PMS, stress and many more health issues. Each chiropractor has his or her own individual style, but the ultimate goal is the same. Dr. Doyle uses a variety of techniques tailored to the needs of each patient.
Because diet is such an important part of wellness,Absolute Wellness Center offers a full line of natural
nutritional supplements ranging from vitamins to formulas designed for GI support, stress relief and sleep aids. Natural products that aid in maintaining normal cholesterol and blood pressure levels are available. Each product has been chosen carefully, and brands include Standard Process, Metagenics, Greens First, Natural Vitality and Deep Steep, a line of personal care products made locally on Johns Island.
Dr. Doyle offers these wellness techniques in conjunction with her chiropractic care because she has seen the results in her patients' lives as well as her own. She offers a complimentary 15-minute consultation so you can learn more about chiropractic care and the additional services available at Absolute Wellness.
Absolute wellness is just a phone call away. Make an appointment and discover how good you can feel.
Absolute Wellness Center is located at 966 Houston Northcutt Blvd. in Mount Pleasant. You can learn more at www.AbsoluteWellnessMtP.com, or you can call (843) 416-8218 for an appointment. You'll feel better!
Photo courtesy of Absolute Wellness Center.