From state-of-the-art technology to flexible office hours and all the comfort a patient could ask for, Pleasant Family  Dentistry is all about making a trip to the dentist as pleasant an experience as possible.
In the reception room, patients find a comfortable and relaxing atmosphere where they can read, use the Wi-Fi or watch a TV that's usually on the PFD channel featuring dental trivia and information about the practice's three doctors – Rick Jackowski, Greg Johnson and Rob Carimi.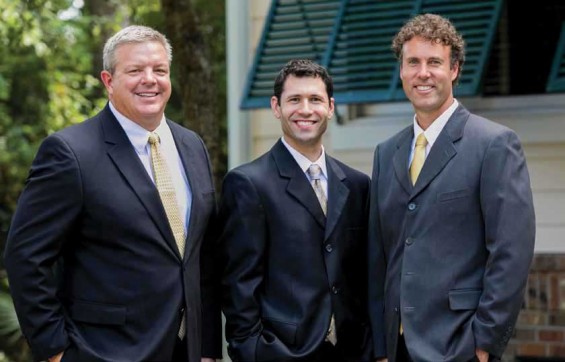 "In addition to providing comfort, we are also committed to building relationships based on trust and confidence in the dental services we provide," said office manager Heather Rourk. "One way we achieve this is through patient education."
A good example of this effort is the use of high-tech cameras and TV screens in the exam rooms that allow patients to see their teeth like never before – in high-definition.
see their teeth like never before – in high-definition. "A tool called an intraoral camera allows the patient to see on the TV screen what we are looking at," Rourk explained. "We can actually show them why we are recommending a particular treatment plan."
The cameras are an integral aspect of this progressive dental practice, but the center of PFD's technological universe is CEREC – Chair-side Economical Restoration of Esthetic Ceramics. This computer-aided process can create an inlay, an onlay or a full crown in 15 to 20 minutes. The whole process takes about two hours, which means there's no need for a return visit to replace a temporary crown.
"The definition of a crown has changed in our office since we started using CEREC," said Dr. Johnson, a graduate of the Medical College of Virginia. "The 3D technology allows us to digitally create a precise impression and preserve as much of the original tooth structure as possible."
PFD offers an array of other services, from root canals to routine cleanings. Patients coming to the office for the first time can expect to see Dr. Carimi – a graduate of the University of Tennessee College of Dentistry.
Dr. Carimi and his team see an average of more than 60 new patients a month. He said the practice's flexible office hours are one reason he stays so busy. The office is open Monday through Friday from 8 a.m. to 7 p.m. and on Saturdays from 8 a.m. to 1 p.m.
"We value our patient's time and want to accommodate every patient's schedule," Dr. Carimi said. "Patients appreciate the convenience."
Another fundamental aspect of the practice is a cohesive team that works together to provide exceptional patient s service and skilled dentistry, said Dr. Jackowski, who also is a Medical College of Virginia graduate.
"Our team is very caring and works hard to make the patient experience in our office a positive and fun one," he said. "We constantly train with consultants to keep the patient experience consistent and focus on providing services patients may not find in other offices, such as one-visit CEREC restorations."
To learn more visit 1204 Two Island Court (843) 881-8881 or www.pleasantfamilydentistry.com