There's a new fitness hub in town – ActiveRx – a revolutionary concept in strength and wellness for mature adults.
Centrally located just off Anna Knapp Boulevard on a quiet, tree-lined street,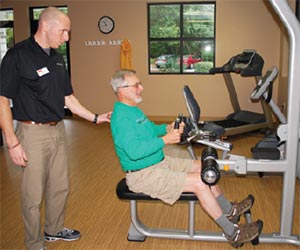 ActiveRx is a brand new, bright, airy and well-equipped health center for seniors who want to maintain their strength and independence. It's also aimed at those who may have encountered problems with balance, general weakness, post-illness lethargy and even depression.
Its parent company, already up and running in a dozen states, calls its facilities Active Aging Centers, and that's just what they are for a growing number of people 60 and older who've discovered that supervised, trainer-directed workouts are the key to regaining, growing and maintaining the strength they need to continue doing the things they love to do.
The ActiveRx approach is based on hard science showing that older Americans who commit to a modest regimen of regular workouts tailored to their individual needs and abilities can experience increased physical and cognitive function, improved cardiovascular health, lowered blood pressure and cholesterol readings and reduced pain and fatigue.
Central to the ActiveRx approach is a three-pronged program that begins with an individualized professional evaluation, moves on to "strengtherapy" orientation and continues with regularly-scheduled, small group workout sessions of 30 minutes each, three times a week.
According to Mark Osborn, ActiveRx regional developer and owner of the Mount Pleasant center, seniors participating in regular, low-impact training sessions can anticipate increased strength and muscle mass, reduced disability, fewer balance issues, reversal of bone mineral density loss and more.
By following the proven protocol, ActiveRx clients are able to regain 10 years of strength in just three to four months – regardless of age or underlying physical condition.
One way this new concept in senior health is gaining traction is through word of mouth, especially if prospective members bump into unofficial cheerleaders such as Patricia Bartlett, who lives in Charleston National and joined ActiveRx shortly after the facility opened in September.
After experiencing a serious illness, chemotherapy and a fall that resulted in a broken foot, Bartlett admitted to having been "physically and mentally down." Understanding that she had to find a way to get back some of her strength, flexibility, stamina and balance, she responded to a TV commercial and dropped by an ActiveRx lunch and learn session. Bartlett is now a regular, working out three times a week and committed to at least six months of personal improvement at ActiveRx. She said her strength has increased "tenfold" and "even my lower back arthritis pain has disappeared."
A retired nurse and one-time golfer, Bartlett said, "I'm absolutely blown away. I look forward to each session because I feel so much better afterward. I wish everyone who needs it could do it."
As Osborn put it, "We're not claiming to extend people's lives. We're in the business of improving the quality of their lives, one person at a time."
To find out more about ActiveRx, visit www.activerx.com/active-aging-centers/sc/mount-pleasant or call (843) 388-3120.