Ever wish you could have access to the same care pro athletes and Olympians receive? One of the country's top sports medicine doctors, Dr. Andrew McMarlin – who was a team doctor for Major League Baseball's Washington Nationals and Major League Soccer's D.C. United and is one of the U.S. Olympic team's physicians – is now in Mount Pleasant. He's providing world-class sports medicine and musculoskeletal care for everyone, whether their goal is winning an Olympic gold medal, getting back to Little League practice or just being able to move freely and enjoy a day at the park with their grandchildren.
"Injuries and chronic conditions slow us down. They handicap us, keeping us from being and feeling full-strength. Helping  people to move without pain and to get the best out of life is my passion," said Dr. McMarlin. "At Winning Health, I am able to treat every patient like a champion."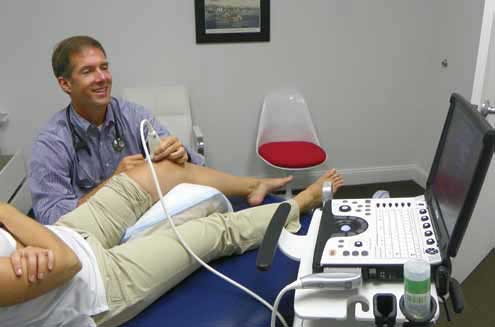 And he should know. Dr. McMarlin is an eight-time world champion paddler who currently holds two world records and a seventime national champion rower who met his wife while winning Olympic rowing trials in the double sculls in 1996. A graduate of the U.S. Naval Academy and a former Navy officer, Dr. McMarlin has created physical fitness training programs  or many elite athletes and for Navy SEALs and pilots.
Before he started specializing in sports medicine, Dr. McMarlin practiced for many years as a family doctor serving needy patients. But his interest in sports and his desire to help all of his patients stay active for as long as possible led him to a fellowship in Sports Medicine, to his career with big-time sports teams in Washington, D.C., and, in 2011, to South Carolina with his family.
According to Dr. McMarlin and his staff, one of the main differences between an experience at Winning Health and at another sports medicine facility is that Dr. McMarlin is board-certified in both Family Medicine and Sports Medicine, so he takes a holistic approach to patient care. In other words, Dr. McMarlin does not simply treat the injury at hand; he gets to the cause of the injury. Dr. McMarlin is among the leaders in treating both arthritis and concussion, and he feels strongly about providing baseline neurological testing for young athletes so he can measure their recovery after a sports injury, which is the standard practice for professional sports  teams.
"If I can help people get back in the game, back to enjoying the activities they love, their whole lives are better," said Dr. McMarlin. "That is how my staff and I measure success."
To learn more about getting back in the game, visit  www.WinningHealth.md or call (843) 471-0375.
Photo courtesy of Winning Health