Perhaps you have just moved to a new neighborhood. Perhaps your last experience at the dentist left a funny taste in your mouth, both literally and figuratively. Whatever the reason might be, you are on the hunt for a new oral health professional in your life, be it a dentist, orthodontist or even an oral surgeon.
Where do you turn?
You've heard, of course, that one should ask the people next door or the parents of your kids' classmates. But you haven't met them yet, and your back tooth is screaming in pain.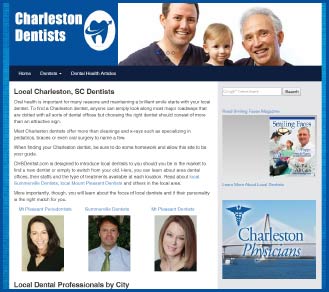 So, like any other member of the 21st century, you sit down with  your computer to see if you can find a dentist in the area. But where will you start?
CHSDentists.com is an excellent place to learn about oral health professionals in Mount Pleasant, Summerville and the Lowcountry. The site is a member of the South Carolina Medical Network, a group of helpful websites that are equipped with the information you will need to make an educated decision for your own health or your family's health.
On CHSDentists.com, you will find almost all of your questions about oral health care in the Lowcountry answered, from dentists to orthodontists to oral surgeons. Each person or facility listed is linked back to the original site, and most are accompanied by brief, informative articles to help readers understand the benefits and ideology of the practice. In other words, you'll find profiles on health professionals who do more than fix what's wrong – they're engaged in their communities and pursuing excellence.
Plus, if you're on the go, CHSDentists.com is mobile friendly, so you'll have no problem accessing the site from a tablet or smart phone while you're out enjoying what Mount Pleasant and Charleston have to offer.
The South Carolina Medical Network covers Charleston and Mount Pleasant in addition to other areas of South Carolina, from Hilton Head to Myrtle Beach and more. For information about joining the South Carolina Medical Network, email Publ[email protected] or call (843) 881-1481, ext. 21.