Diet is a word that can be everywhere, but what you eat matters and can have an important effect on your oral health. The U.S. Department of Agriculture advocates that for a healthy diet, fruits and vegetables should make up half of the food you consume every day. In addition, you should try to eat whole grains whenever you can and stick to dairy products that are low-fat or fat-free. When it comes to protein, the USDA encourages the consumption of lean protein, specifically seafood.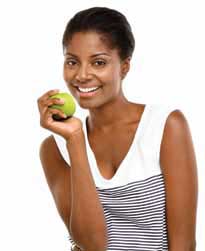 Snacks are a part of life that many people cannot live without, but it is important to think about how they fit into your diet. Avoid sugary drinks such as sodas and juice, opting instead for healthy alternatives such as fruit, vegetables or yogurt. If you are wearing braces, eating certain healthy foods that make great snacks, such as apples and carrots, can be challenging. However, if you cut them up into small pieces, you can eat them more easily and enjoy a snack that is both tasty and good for your.
For additional information, check out www.mouthhealthykids.org, a website brought to you by the American Dental Association.