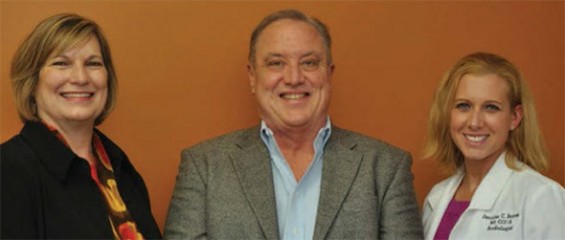 Sam Thomasson founded Zounds Hearing because he was faced with a serious challenge. His daughter, Kate, had lost her hearing at an early age and struggled throughout her childhood with subpar, faulty hearing aids. Over time, it became apparent to Thomasson that traditional hearing aids were not working, so he took it upon himself toand a way to better his daughter's life. When she was 16, she tried her father's first Zounds hearing aid prototype, which changed her life forever.
Fueled by his daughter's need, Thomasson used his years of knowledge in developing audio technology for Tom Tom, Motorola and Garmin to create a technologically superior hearing aid at about half the price. Since the prototype days, Zounds Hearing has catapulted to the hearing industry's forefront, becoming the fastest growing hearing aid company in the nation and opening up to 20 stores per month across the country.
Derrick and Nancy Woods, who recently relocated to Mount Pleasant after years of corporate moves all over the United States, decided to open a Zounds Hearing franchise in the Lowcountry.
Why Zounds?
Well, like the Thomassons,the Woods' also have a personal connection to hearing loss.
"Ever since Derrick was a child, he has struggled with his hearing," said Nancy, Derrick's wife of 33 years. "For years I thought he just had selective hearing."
As a child, Derrick baffled his parents with constant crying. One day, while riding in the car with his parents, blood began to trickle from Derrick's ear; his eardrum had burst. Reconstructive surgeries were, for the most part, unsuccessful.
Over the years, Derrick continued to struggle with his poor hearing, both at his job as a plant manager and at home with his family. Eventually, he realized he would have to do something about this problem.
"I knew my hearing had to be fixed because I could see how frustrating it was for my work colleagues and loved ones to communicate with me," Derrick said as Nancy nodded in agreement.
After a doctor suggested that Derrick look into hearing aids, the couple began to do their research and found Zounds.
"There was a personal connection to the Zounds story, and we realized that after all these years, we may be able to help Derrick – and, in turn, help others," Nancy explained.
So at 58, the retired plant manager partnered with his wife and local audiologist Jennifer Bonner and opened Zounds Hearing of Mount Pleasant.
Derrick and Nancy are pleased to have partnered with Bonner and are certain that her knowledge and experience, paired with the Zounds product, will provide patients with superior hearing. Their first customer, of course, was Derrick Woods.
"I remember the first time I really heard piano jazz in my car," Derrick recalled about the morning after he got fitted for his Zounds Hearing aid. "The music was crisp, clear, and pure. I pulled over to the side of the road, cut off the engine and just listened."
For more information about Zounds Hearing, visit www.zoundshearing.com, call (843) 654-9922 or drop by 311 Johnnie Dodds Blvd. in Mount Pleasant.