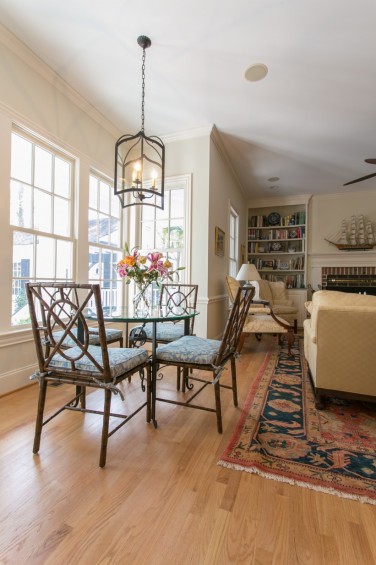 Exemplifying the old adage that two heads are better than one, respected local interior designers Gigi Chapman and Becca Barton have joined forces to become a team. Operating out of deGuise Interiors, Chapman's showroom in the nationally acclaimed I'On neighborhood of Mount Pleasant, the newly minted duo offers comprehensive design/build services and project management.
Barton, an Augusta, Georgia native who has enjoyed success in the local interior design arena for ten years, will be bringing her strength in renovations to the table – noting of her skill in design selections coupled with the experience of second generation Charleston designer, Chapman, "We can do it all, basically… we want people to know we are here if they need design advice, from the ground up through the entire process."
To the effect, Chapman and Barton recently overhauled the spacious showroom at 152 Civitas St. in I'On to better serve those in the midst of a design project (or planning one).
"We just finished the remodel," elaborated Barton. "We moved all of the fabrics and wall coverings to our newly expanded showroom to create an enormous work space where people can come in, sit down, flip through wallpaper books, look at samples, consult with us or whatever their need for their project may be."
DeGuise's design library, it merits mentioning, boasts a massive array of samples from fabrics to wallpaper samples to window treatment options and everything in between – and it's open to the public. Anyone is welcome to come in, sit down in the newly renovated workspace and pore over the samples.
"We offer complete design services, so we find it imperative to carry a comprehensive resource library so that we are able to work 'in-house' and expedite most elements of the project," Chapman explained.
Accordingly, Chapman and Barton take pride in the fact they offer nearly any and every line available, including several exclusive to them in the East Cooper area.
"We have over three hundred wallpaper books and tens of thousands of fabric samples, including a wide selection of outdoor fabrics," said Chapman, "along with all applications of window treatments from woven woods and wooden blinds to all fabric applications."
DeGuise Interiors has also been selected as the exclusive retailer in Mount Pleasant for Amy Howard at Home paints – an extremely popular line which embodies Amy Howard's "go-green" interior design mantra of "rescue, restore, redecorate!" The paint line includes the versatile One Step Paint, which offers rich, chalky-soft color in a convenient no-prep form.
"I went to Memphis, Tennessee and learned how to use these paints from Amy Howard herself," enthused Barton. "We're going to be carrying these classes here twice a month, each taught by a certified designer."
Called Amy Howard Hands-On Workshops, the bi-monthly classes beginning in June will help design enthusiasts master the techniques needed to turn a well-worn piece of furniture into a piece of art for the home.
With a newly remodeled showroom, a new partnership and innovative new workshops open to the public, it's clear deGuise Interiors is poised to cement its status in Mount Pleasant as the area's premier one-stop shop for interior design needs.
To collaborate with Barton and Chapman, call deGuise Interiors at (843) 971-1491 or for more information visit www.deguiseinteriors.com. Swing by 152 Civitas Street in I'On to check out the newly remodeled showroom.
Story by Julie Sprankles
Photo Provided