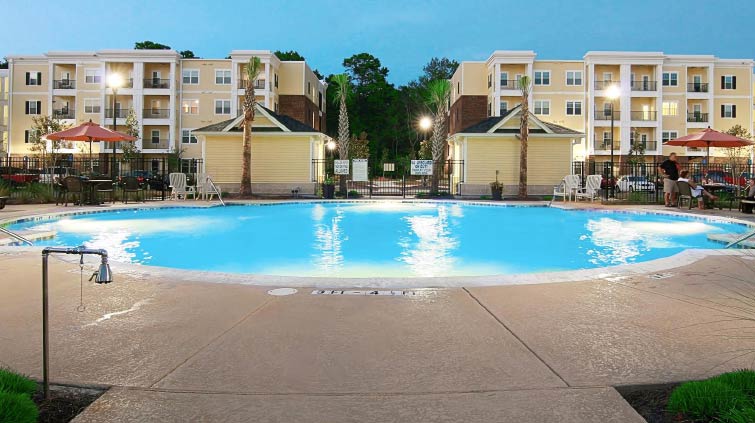 From the oversized pool to the mini-playground, Gregorie Ferry Landing offers amenities for all ages. It's a residential oasis, away from the hustle and bustle of cross streets yet still just a jaunt to the many restaurants and boutiques that dust the area.
Located off of Highway 17 North, Gregorie Ferry offers attainable luxury. Posh and sophisticated yet still possessing comfort and affordability, it's unlike any rental apartment living in Mount Pleasant.
"We consider ourselves the value property," said Community Manager Melinda Lawhorn of TBC Property Management. "Our floor plans are current. Each unit comes with a giant closet and a washer and dryer. You can move right in and everything is here for you."
The four-building complex, set on 10 acres, opened in June 2012, and since that time occupancy has skyrocketed. Just one visit to Gregorie Ferry and it's easy to see why the community has a waiting list.
Perhaps even more enticing are the variety of apartment styles and flexibility of leases. Residents can sign anywhere from a seven-to-15-month lease for the Sweetgrass studio to the three-bedroom, two-bathroom Palmetto.
Last winter, when the chill hit the Lowcountry and ice forced the Ravenel Bridge to close, Gregorie Ferry hosted a Martinis and Mittens Mixer. Residents, sporting their most colorful and creative glove wear, crowded around blazing fire pits and sipped carefully crafted cocktails.
"Hosting social events makes residents feel like family," said Lawhorn. "It endears people to their community. We want them to have the best positive experience."
With monthly socials, Lowcountry seafood boils, pool parties, elevators in each building, a billiards room with surround-sound televisions and a state-of-the-art fitness center, there's really no reason to venture outside the sprawling utopia. But when you do, you'll be met with countless options for dining and shopping. Just four miles to the Isle of Palms Connector, residents will find themselves oceanside in a matter of minutes.
Not only are dogs allowed, but they, just like residents, are living the good life. With an expansive bark park and nine grassy stations for canines, Gregorie Ferry encourages four-leggers to enjoy their surroundings. Cleanliness is of top priority as well, and this apartment complex is taking steps to ensure the grounds remain in mint condition. Only the second community in the Charleston area to implement PooPrint – a dog waste management system – Gregorie Ferry has a no tolerance policy for those who don't pick up after their pup.
Attention to detail is truly what sets Gregorie Ferry apart from other apartment communities in the area. Trays of freshly baked chocolate chip cookies fill the management office with an aromatic scent that smells like, well, home.
Climate-controlled storage units, garages and designated areas for boat and recreational vehicle parking are offered at a great rate. The community and individual buildings are gated, adding that feeling of privacy that makes us feel at home. And just when you think this complex can't provide one more perk, you learn of its auto detailing bay, where you can pressure clean and vacuum your car.
"We are very customer-service oriented," said Lawhorn. "Our goal is to have our residents choose to stay."
Find out more about Gregorie Ferry Landing by calling 843-225-7515 or visiting www.gregorieferryapts.com.