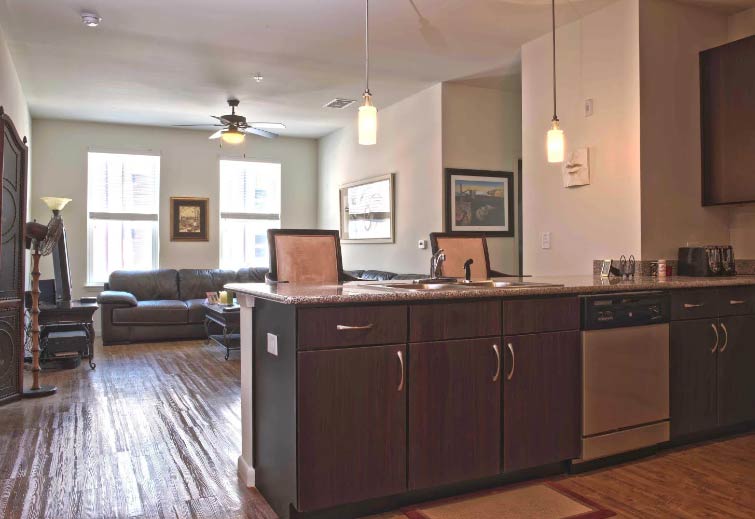 Life at the Boulevard in Mount Pleasant could not be more fitting for Jon Livak's lifestyle. As vice president of a medical implant distribution firm and a veteran of his industry, Livak travels a great deal and considers his apartment on Coleman to be "his business home." Lately, though, he's been spending more and more downtime at his cozy abode, soaking up what East Cooper has to offer and loving every minute.
Though Livak joked that living at the Boulevard is so much fun, "it's almost like being back in college," his home exudes sophistication and minimalism, with just enough flair to keep things interesting. The bar area, which is flanked with golf paraphernalia, thanks to Livak's enthusiasm for the sport, is the perfect place to unwind with a drink at the end of a business trip. Meanwhile, the living room sofa looks to be plenty comfortable, and the artwork on Livak's walls reflects his taste.
"I'm eclectic and have a little of everything when it comes to décor," he pointed out. "Because I also own a home in Florida, a lot of my stuff is either down there or in storage. But I picked up a little of everything to make this place comfortable; I want people to feel at home when they visit."
If you ask Livak how he stumbled upon his Boulevard apartment, he credits the foresight of one of his company's sales representatives who recently moved to the Lowcountry and assured Livak he would love it. And since Livak frequently visited the area on business, staying in hotels, he jumped at the idea and signed a lease at the Boulevard based on faith.
"I didn't even look at it first – I was sold," he admitted with a laugh. "It has everything that I'd want: the feel of a big city but no congestion."
Luckily, he wasn't let down once he arrived. There's always something to do at the Boulevard, whether you're lounging at the saltwater swimming pool or walking to a Mount Pleasant restaurant. Livak said all kinds of people are living it up at the complex, from families to business-oriented single professionals like himself.
"It's absolutely a place for professional people," he said. "There are a lot of younger people with start-up businesses. It's amazing how some of these people hanging out by the swimming pool could be the next Zuckerberg. And they're all friendly – one guy invited me to play on his beach volleyball team."
Because there is plenty of space inside Livak's two-bedroom, two-bath apartment, he has a part-time roommate: his niece, Brittany Livak, who recently finished her undergraduate program at West Virginia University and is currently employed at a physical therapy office in the area while she waits to be accepted into the physical therapy program at the Medical University of South Carolina. Jon Livak cherishes the family time with his niece, who is also his goddaughter, and enjoys inspiring her to work toward her goals.
"I'm blue collar, not blue blood," he joked. "I've worked since I was 10, starting with a paper route, and I've been teaching Brittany to work hard, too."
When Livak isn't working, he has no shortage of enticing activities to keep him busy, from meeting the neighbors to exploring historic Charleston – "I'm a history buff," he said – but hanging out in his own backyard, so to speak, is probably his favorite.
"I get on a bike and go to Red's Ice House, My Father's Moustache, Poe's, Taco Mamacita – there are so many restaurants and bars," he said. "Every time I'm here, there's something new to check out. I also just became a member of the Bulls Bay Golf Club, and I'm buying another boat."
Though Livak is aware of the fact that a few Mount Pleasant residents were hesitant as to whether the Boulevard would suit East Cooper's atmosphere, he has encountered nothing but friendliness, even from the locals.
"The day I moved in, I struck up a conversation at a local bar with an older gentleman, and he wrinkled his brow when I told him where I'm living," he admitted. "But when I ran into him again a few weeks later, he remembered me immediately and was glad to see me. I think that people are slowly embracing change and realizing that growth is positive for Mount Pleasant."