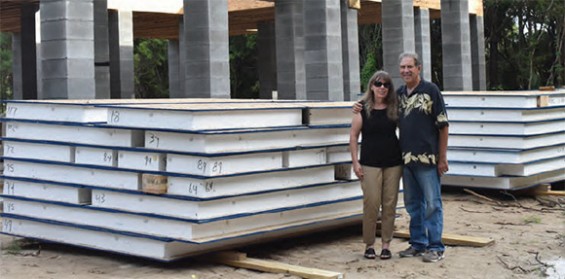 As all-around ecologically minded people, Stan and Suzanne Gorlitsky knew that when they built their forever home they would want it to be environmentally sound and immersed in nature.
For the couple, life at their former four-story Isle of Palms home meant hefty energy bills each month, often hovering around $600 during the stifling summers.
"We've always been interested in building green, but we've never been able to find anybody around here that was really doing it," said Suzanne. "I'd read a couple of articles about Amerisips, but I thought they were only building around the Johns Island area. When we went out to see their model home, we found out they're actually doing custom homes all over."
After their realtor pointed out that owner Steve Bostic, his wife, Tina, and the rest of Amerisips team were building truly top-end, ecological homes, the Gorlitskys knew they wanted to explore the option further. Upon being "more than impressed" by other Amerisips homes, the couple decided to move forward with the company.
"When I met Steve, we had so much in common," elaborated Stan. "What he's doing is such a great new approach, and we're so excited to be a part of it. It's that high quality, custom build we love: Whatever my wife wants, they try to figure out how to do it without spending us to death. It's been a really great experience."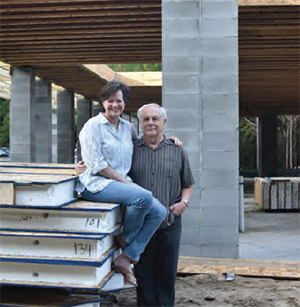 The Gorlitskys were also drawn to Amerisips' unique approach, one Steve sums up as "a totally integrated one-stopshop for home design, interior design, manufacturing and construction" of high-performance homes.
And since Stan and Suzanne were ready to say goodbye to the cumbersome electric bills typical of their former residence, the Amerisips' premise of Free Energy Living proved especially appealing.
"Free Energy Living is our whole system for how we work with a client to reduce their electric bill. The theoretical zero energy is where you can build a house that reduces the cost of energy and gets rid of waste and air coming into the building," Bostic explained.
"There's a government sponsored rating called a HERS rating that runs from 0 to 150, and we're building almost to a zero," he revealed. "Standard stick builders of a tract home build at 100."
Not only do Amerisips homes exceed all U.S. standards for quality building as recognized by Leadership in Energy and Environmental Design certification – in fact, most Amerisips homes are LEED Platinum certified – but the company also has been certified by the Department of Energy for participation in an innovative new program. Zero Energy Ready Home represents "a whole new level of home performance, with rigorous requirements that ensure outstanding levels of energy savings, comfort, health and durability."
Additionally, Amerisips was recently selected as a Department of Energy Home Innovation Award recipient in the Custom Home category and a finalist in the U.S. Green Building Council's Best of Builder Awards – further solidifying its position as one of the leading green design/builders in the country.
Accordingly, Bostic explained, Amerisips' homes also meet the highest standards for indoor air quality. Each home is built to the EPA's Indoor airPLUS specifications. He noted that an Amerisips home is "as clean as an operating room," thanks to a wholehouse ventilation system and an in-duct UV filtration system that filters out contaminants and allergens.
It was a no-brainer for the Gorlitskys, particularly when they discovered Amerisips houses are completely customizable. Each home begins with the innovative EcoShell, a complete home exterior crafted from exceptionally strong and energy efficient structural insulated panels.
Then the Amerisips team sits down with homeowners to determine their budget and how they'll use the space. Since the system doesn't require loadbearing walls, the popular open floor plan is readily available. But for those who want to tweak the design further, the Amerisips team is there to help.
"The house design and the interior design is all custom," Tina Bostic explained. "We have house designers and interior designers on staff, so they can customize virtually anything in the house."
And while the expedited turnaround – about half the time it takes to build a comparable custom-designed stick built home, according to Bostic – may throw some people, these are not pre-fab facade or pre-fab homes.
"It's the beginning-to-end integrated process and better managed construction process which allows us to build these really high-end, high-quality homes in much less time," Tina Bostic clarified.
Amerisips level of quality and customization bore special significance for the Gorlitskys because one of their sons is paralyzed from the waist down.
"Everything – every room, every inch of this house – is ADA (Americans With Disabilities Act)-compliant with him in mind," said Stan. "Steve and Tina understand us and know all the things about how to build like that, right down to considering the views. So it's perfect for him. It's almost like a family compound. This will be the last house that we build."
Now standing on their future house's foundation in what next year will be a room – probably with a few prints of Stan's avian photography adorning the walls – the Gorlitskys already look at home. It's strange to imagine they might have missed out on this special spot – and very nearly did, Suzanne explained.
The couple, she shared, originally had an option on a home in a new equestrian-oriented tract of the Poplar Grove subdivision in Ravenel. They had gotten so far as to have Bostic design a set of plans for their plot in that community before Suzanne realized the area wasn't the right fit for them. Their son, Adam, grew up in the Mount Pleasant area, where he still resides. And, as any mother can relate, Suzanne couldn't help but think about how this decision might impact him.
"It's so far from everything," she said. "And Adam would never want to live out there, so if something happened to us tomorrow, he'd never want the house. So I couldn't sleep at night. I finally said, 'I can't move out there.'"
Fortunately, the Bostics – with whom the Gorlitskys had become fast friends – were more than happy to make the adjustment and redesign the house for their new lot in Sewee Preserve. That kind of customer service, the homeowners asserted, has been exhibited by Amerisips throughout the building process.
"The best thing is Steve got me in touch with a local landscape architect who does wildlife plantation planning," Stan said, beaming with pride. "He came out here and he had tears in his eyes. … that's how much he loved it."
For more information or to discuss your own custom home, call Amerisips at (843) 637-4311 or visit them on the Web at www.amerisips.com.