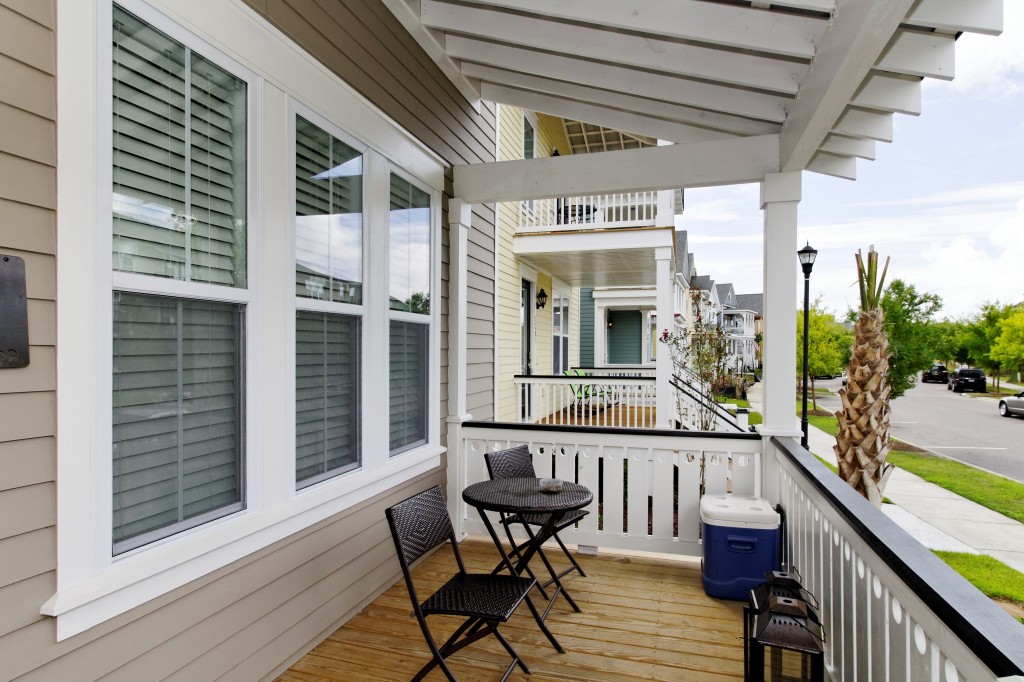 New real estate in the Mount Pleasant area is becoming increasingly hard to come by, a fact that enhances the already substantial value of Watermark. Centrally located between Rifle Range and Bowman roads, Watermark is convenient to the Charleston peninsula, the beaches of the Atlantic Ocean and Towne Centre. Buyers looking for a master-planned community where they don't have to drive an additional 10 minutes from the entrance to their home should definitely pay a visit to Watermark.
"Watermark is designed with the community in mind, so it is ideal for pedestrians and for those who choose to bike," said Kim Boyd, Watermark sales consultant. "Smaller home sites commonly found in more urban areas throughout Charleston are enhanced with green spaces, tree-lined streets and large front porches."
Developed by Beach Shellpoint, LLC, an affiliate of The Beach Company, Watermark's neo-classical style reflects the tradition that has been an integral part of the organization since its inception.
"We look to the future even as we apply time-proven standards at every phase of development," said Boyd. "Our personalization makes us a boutique real estate company, but we have the backing of a major national company so our buyers get the benefit of both entities."
The Beach Company has been a part of the business community in Charleston for more than 65 years and actively participated in the area's growth, developing communities where people love to live. Partnered with Better Homes and Gardens Real Estate, the companies have combined their knowledge to create Watermark in the heart of Mount Pleasant.
"We are a master-planned community that offers all the conveniences of living in a town. But, unlike subdivisions, it has planned recreational opportunities and architectural guidelines over and above the city's planning and building codes to protect the integrity of the look and feel of the community," said Boyd. "Watermark is truly a fully realized traditional neighborhood."
Appling Drive, one of Watermark's main streets, is also known as The Row of Homes. Modeled after Rainbow Row in downtown Charleston, this area, consisting of 37 custom-built, Charleston-style homes, is in high demand; each resident feels unique in a neighborhood of real character and with an impressive roster of amenities.
Speaking of amenities, they all are within easy walking distance. They include a 33-acre neighborhood lake for fishing and kayaking, an extensive network of lakeside trails for walking and biking, multiple pocket parks, numerous open spaces and a resort-style lakefront pool with a sun deck, trellis, changing facilities and a playground area.
"Currently we have four custom builders working within Watermark," said Boyd, referring to Ashton Woods Homes, FrontDoor Communities, Lenhart-Swails Construction and Saussy Burbank, which built The Row of Homes. "We want our buyers to know that in addition to these builders, they can bring in their own custom builder to submit a plan for approval. It is important to know that you can pick your own builder. We have had a very good response as buyers like not being limited to a particular style."
Whether you are moving across town, starting a family, retiring to coastal Carolina or graduating from college and entering the workforce, Watermark has a place for you as spring arrives in the Lowcountry.
"Custom homes typically take longer to build, and spring will coincide with many homes being completed and ready for sale," said Boyd. "It will be a very exciting time."
To learn more about Watermark, call Kim Boyd at (843) 696-4773 or (843) 881-8522.
Story by Stacey E. Domingo
Photo courtesy of Watermark