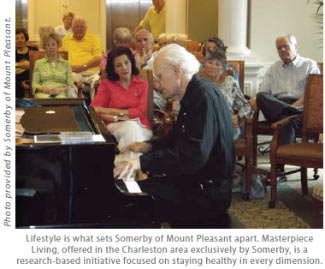 The word "masterpiece" generally provokes thoughts of priceless works of art and pieces of music that have been played for centuries. But at Somerby of Mount Pleasant, the mission is to ensure that residents think of their own lives as masterpieces. "A true masterpiece is something that never leaves one with the feeling that anything is missing," said Lisa Kinsella, executive director of Somerby. "That level of complete fulfillment is exactly the lifestyle we offer our residents."
Somerby of Mount Pleasant is a rental retirement community in Park West that offers independent living, assisted living, memory care and respite accommodation with all the resort-style amenities and restaurant-style dining anyone could wish for.
"We boast a beautiful property, spacious living areas and more fun-filled events than you could count," Kinsella said. "But what sets us apart is not the four walls of our buildings or the beauty of the landscape; it's all about the lifestyle."
Life at Somerby is focused on enhancing retirement with a spark.
"It's a lifestyle that makes you more energetic and passionate about each day," she said. "It's the 'Masterpiece Living' our residents enjoy."
Masterpiece Living, offered in the Charleston area exclusively by Somerby, is a research-based initiative focused on staying healthy in every dimension – physically, socially, intellectually and spiritually.
In addition to plenty of physical activities, the community offers a place of meditation and worship and hosts games, clubs, arts and crafts, presentations, special events and scheduled trips in order to keep residents engaged socially.
"Staying engaged with other people is very important to overall wellness, and Somerby makes it easy," Kinsella said. "I love hearing residents say, 'You know, I just met my new best friends here.' Luckily, I get to hear that often!"
Resident Margaret Shuh took on a project to show what the mission of Somerby means to her and presented the final product to Kinsella as a gift. It was a wooden spool with a ribbon and a card that read:
"The spool for Somerby's Mission Statement is an old wooden one, lending itself to the concept of realizing that even though we are older, there is still much useful value in each of us. The patina of age may be upon us, but we aren't done yet!"
Somerby, which celebrated its sixth year in July, also specializes in other fivestar services residents may enjoy, including weekly housekeeping, linen service and scheduled transportation. Of course, all residents have access to days full of activities, fine dining and fun.
"You will make new friends here at Somerby," Kinsella said. "Our residents really look forward to spending time together and meeting new people. There's so much to do and something for everyone."
Somerby residents will take part in the Walk to End Alzheimer's on Sept. 20 at Patriots Point in Mount Pleasant. And from 5:30 p.m. to 8 p.m. on Oct. 24, the community will host "Girls Night Out" to benefit breast cancer research, complete with with cocktails, hors d'oeuvres, retail vendors and massages.
"These are just some of the many ways of getting residents involved and providing a way for them to give back to their community," Kinsella said. "We are always focused on adding quality to the lives of our residents."
To learn more, visit www.somerbyofmtpleasant.com or call 800-984-4096.