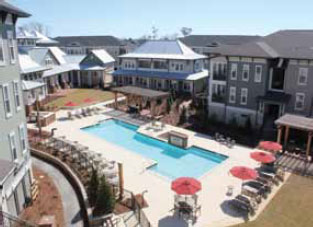 The rest of the world has been rapidly catching on to what those of us who dwell here have known all along: You just can't beat life in the Lowcountry. It's no big surprise that recent census estimates rank the tri-country area as one of the fastest growing regions in the nation. As such, more and more people are flocking to our corner of the country and, for many, the pull of Daniel Island is as persistent as the tides that tug at the island's many creeks, marshes and rivers.
Lauded by "islanders" – as inhabitants of the charming area of Charleston are called – for its unique combination of family-friendly neighborhoods, small town appeal, lively downtown area, breathtaking surroundings and close proximity to the historic Charleston peninsula, Daniel Island is a place people are proud to call home.
Making up a growing percentage of these happy inhabitants are residents of Talison Row Apartments, a luxury community that "defines resort living on Daniel Island," explained community manager Stacie Dadamo. Located off Seven Farms Drive, the new one-, two- and three-bedroom apartments are centrally located and boast more than 20,000 square feet of amenities.
"We feature custom home finishes with granite countertops, designer lighting, faux wood floors and two-tone paint with crown molding," Dadamo elaborated. "Our community offers one-of-a-kind amenities such as a saltwater pool, an outdoor summer kitchen and a fully furnished game room with a pool table. And, if that wasn't enough, Talison Row also has a yoga studio and 24-hour fitness center with onsite instructors offering group and private classes."
In addition to artfully appointed interiors, Talison Row residents enjoy full-sized in-home washers and dryers – a major asset for the community's many young professionals, working singles and families alike. Outside of the home, residents have access to a wide array of entertaining spaces, including an expansive clubhouse, a gourmet outdoor kitchen with cozy fireplace (Dadamo's favorite spot), a community garden and a game room with a flat screen television.
Clearly, the complex offers a little something for everyone. The community is comprised of individuals who take full advantage of its diverse amenities. They delight in the near-weekly social events held at Talison Row, as well as those happening all around the Island, such as the world famous annual Family Circle Cup women's tennis tournament.
As such, the complex's residents – Dadamo defined them as "educated, personable, social and successful" – are an easy fit for this dynamic island community. Like others who've made their home on Daniel Island, Talison Row dwellers have a zest for life. You might just say they are natural born islanders.
To learn more about Talison Row at Daniel Island, visit www.TalisonRow.com, or call Stacie Dadamo at (843)-471-2220.
Photos courtesy of Talison Row Apartments.
By Julie Sprankles