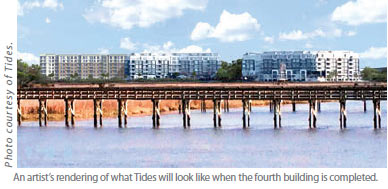 A high-profile luxury condominium neighborhood that struggled during the recession is well on its way to completing a comeback East of the Cooper.
Construction on a fourth building at Tides Charleston, located within hailing distance of the Arthur Ravenel Jr. Bridge, is scheduled to get underway early in 2015, according to Miller Harper of East West Partners, the national developer that repositioned 50 foreclosed residences at the Wingo Way complex in 2012.
East West sold those units in a just over a year after bringing them back to market, and plans are now afoot to expand the waterfront community after the Mount Pleasant town council granted zoning approval in July.
It's especially good news for those in the luxury property market looking to transition away from a singlefamily home. Tides IV, as the new project is known, will be the first new high-end residential condominium community in the market since 2008.
"People in Charleston and Mount Pleasant are increasingly drawn to the hassle-free 'lock-and-leave' lifestyle that luxury condominiums offer," Harper said. "When you've got one of the world's greatest cities minutes away, when you've got top-class beaches just down the street, you don't want to spend time pulling weeds in your yard."
Downs and Ups
Construction on the second and third buildings at Tides was completed in 2008 – just in time to get rocked by a nationwide recession. Three years later, East West Partners teamed up with Charleston Harbor Holdings to buy the 50 units that remained vacant.
The move proved prescient.
According to Tides sales figures, in 2012, three units sold for an average of less than $500,000. The following year, 51 condominiums changed hands at an average price of almost $800,000. Through the first five months of 2014, sales prices were closer to $950,000.
"To have gone from foreclosure to plans for a fourth building so quickly is a testament to what Tides offers, the draw of Charleston and the rebounding market overall," Harper said.
New Build
Harper said that buyers will notice differences between Tides IV and the first three buildings, mostly because the real estate world is a different place than it was a decade or so ago.
"We've been able to work with lots of homeowners, and we realize that their preferences have evolved," Harper said.
Residences at Tides IV will offer wide-open and airy living and dining rooms, fewer hallways, large windows and spacious terraces. Kitchens will be designed to be the hub of the indoor living area. And the residences will also be built to take full advantage of classic marsh and river views.
Like Tides' first three buildings, the fourth will offer luxury finishes will be built to withstand the forces of nature, from hurricanes and to seismic events. Amenities at Tides IV will include a fitness club, an owners' lounge, a pool and concierge services.
Construction at Tides IV is scheduled to begin in the first quarter of 2015, with completion set for the middle of 2016. The building will feature a mix of one, two and three-bedrooms residences.
"The Lowcountry is a perfect climate for development, given its notoriety as a destination, its year-round livability and its high-wage workforce," Harper said. "Those three factors don't dovetail often, and we're very excited for the tremendous opportunity here."
For more information about Tides, visit www.tides4.com.