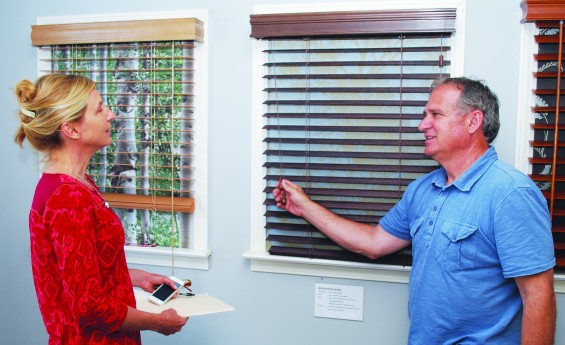 Budget Blinds has more than a thousand franchises across North America, all of them offering a wide range of high-quality shutters, shades, blinds, curtain and drapes, along with all the accessories necessary to enhance the look and functionality of just about any window of any shape or size.
The most successful franchisee just might be here in the Lowcountry, where Merv Epstein, owner of Budget Blinds of Charleston, has been number one in the country in gross sales three of the past four years. In 2013 alone, the company sold more than 5,000 shutters.
The secret of Epstein's success is really no secret at all.
"I always put the customer's needs first," he commented. "Our goal is simple: Be honest and please our customers."
He added that it doesn't hurt that Budget Blinds of Charleston is a locally owned family business backed by the strength of a national corporation. Epstein's son, Adam, who will soon be taking over the Summerville part of the operation, has been with the company since 2005. A Johns Island fireman since 2012, he heads up the installation team, which consists of head installer John Serpe, who has been with Epstein since 2007, three full-time employees and four part-timers who also are firefighters.
Epstein's son-in-law, Lang Dinkins, joined the company in 2009. A graduate of The Citadel, he covers West of the Ashley for Budget Blinds.
Other key employees include Jana Sanders, office manager Lynn Hahn and Marianne McLaughlin, an interior decorator who handles draperies and other soft window treatments.
Epstein, who was in the real estate business in the Upstate before moving to the Lowcountry to be closer to his children and grandchildren, launched his business in 2004, operating out of his home on Daniel Island. Four years ago, he opened his showroom on Highway 17 in Mount Pleasant.
Some customers visit the showroom first to take an up-close look at Budget Blinds' extensive product line, while others prefer to start by having a consultant visit their home, at no charge, of course. Regardless of which option they choose, they are dealing directly with the owner of the company or a family member. If there are questions or issues, they know they can talk with someone who can make any problems go away.
"I have a great staff and they're always involved," Epstein said. "We take care of everything, from start to finish, and we stand behind our products."
Epstein pointed out that 70 percent of his business is either referrals from satisfied customers or homeowners who have used his products and services before. The company's newly-established commercial division will be led by Polly Epstein – no relation – former owner of a commercial cabinet company. As a customer, she appreciated Merv's customer-first attitude.
"They showed up, we got a price and the order went in. It was seamless," she said, adding that she has witnessed firsthand Epstein's work ethic.
"He meets the installers early every morning, and they review the previous day's activity and what needs to be done for the day. Then they load up the trailers," she said. "He is hands-on and really watches his business."
Budget Blinds of Charleston has continued to grow since its inception, despite the financial crisis of 2007 and 2008 and the sluggish national economy that followed.
"The referrals and repeat business speak for themselves," Merv Epstein remarked.
For more information about a wide range of window treatment options, visit www.budgetblinds.com, call (843) 856-9498 or drop by the showroom at 2447 Highway 17 North in Mount Pleasant.
Story and Photo by Brian Sherman