If you think you're seeing a lot more smiling faces as you make your way around Mount Pleasant, you aren't simply  imagining things. According to the Census Bureau, Mount Pleasant was not only the fastest-growing large city in South Carolina in 2013: It was gaining population at a rate surpassed by only eight other municipalities of comparable size in the entire country. Mount Pleasant, which had fewer than 7,000 residents as recently as 1970, reached the 74,885 mark in 2013, based on Census Bureau estimates. That's an increase of 2,938 people in a year, a 4.1-percent jump. Among towns and cities with a population of at least 50,000, only San Marcos, Texas; Frisco, Texas; South Jordan, Utah; Cedar Park, Texas; Lehi, Utah; Goodyear, Ariz.; Georgetown, Texas; and Gaithersburg, Md., grew at a faster rate than Mount Pleasant from 2012 to 2013.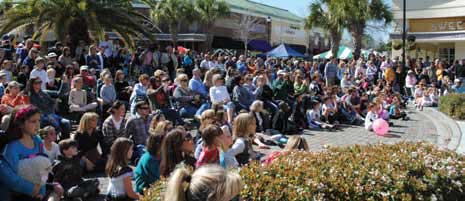 Charleston, North Charleston and Mount Pleasant together gained more than 7,300 residents from 2012 to 2013, helping to make South Carolina the 11th fastest growing state in the nation. Much of that growth was close to the ocean, where Charleston, Myrtle Beach and Hilton Head and their environs were the fastest-growing areas along the entire Atlantic coast.
With developments such as Carolina Park kicking into high gear on the north side of town and restrictions on residential building permits a thing of the past – at least for now – Mount Pleasant is expected to match or even exceed its healthy growth of the past few years. What is it that attracts people to an area that less than half a century ago was no more than a tiny village on the outskirts of Charleston? It's proximity to the Holy City? The nearby beaches at the Isle of Palms and Sullivan's Island? An array of shopping opportunities and dining possibilities? Maybe it's all of the above.
Wil Riley, chief executive officer of the Charleston Trident Association of Realtors, doesn't live in Mount Pleasant, but he has an opinion about why its population continues to soar.
"The quality of life in Mount Pleasant is something that continues to be in high demand for people moving into the Lowcountry," Riley pointed out. "It offers a certain quality of life that people are looking for."
CTAR, which represents approximately 4,000 Realtors in Charleston, Berkeley and Dorchester counties, provides its members with education, technology, legislative advocacy and public relations, and it also publishes a monthly report on the  housing market in the tri-county area. According to the June 15 edition, 213 of the 709 homes sold during the month of May in Charleston County were in Mount Pleasant, with a median price of $356,950, well above the $282,290 figure for the entire county.
"Mount Pleasant is close to the beach, it offers amenities with regard to live/work communities and it has a town center environment folks are looking for as they make a decision about where they're going to live," Riley added.
Carolina Park, located just off Highway 17 on the north side of Mount Pleasant, is on the verge of pushing the town's population well above the 75,000 mark. Sitting on 1,700 acres in one of the fastest-growing areas of the fastest-growing municipality in the Palmetto State, the community eventually will include approximately 1,500 single-family homes and an additional 500 luxury apartments. Since November 2012, the developers have sold more than 200 homes.
So leave early if you want to be sure to make it to an important appointment on schedule, expect to spend a little more time standing in grocery store lines and get used to bigger crowds at your favorite eatery. People are moving to Mount Pleasant because of its weather, location and quality of life. Isn't that why you moved to Mount Pleasant?
Photo courtesy of the town of Mount Pleasant.
Story by Brian Sherman