When I visited east Cooper Montessori Charter on a seemingly ordinary Thursday morning, I found myself treated to a rare performance – the upper elementary students were busily crafting their Rube Goldberg projects, learning how to perform "a simple operation – namely, turning on a hair dryer – as a result of a complex invention," according to the school's principal, Jody Swanigan.
Swanigan led me amongst the busy classrooms where students were working in teams. Teachers moved about, offering guidance and support yet letting the students make their own way.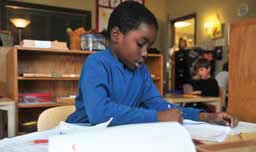 Thus the Montessori tradition is alive and well in Mount Pleasant, but it was not always this way. Years back, before East Cooper Montessori Charter became the well-known and respected institution it has been for these last 11 years, Swanigan worked hard to bring the benefits of a Montessori education into the limelight. These benefits include keeping students with a single instructor and classroom environment for three years instead of one; offering "multidisciplinary tasks" at each level to prepare students for the real world; offering students freedom to meet goals and objectives; and developing lessons that are tailored for smaller groups.
"Each teacher has a child for three years and becomes aware of that student's learning patterns," noted Swanigan, who added that this practice makes Montessori a viable option for the middle school years, allowing adolescents to grow and learn within the same classroom rather than constantly switching around.
Swanigan's hearty belief in the Montessori method, coupled with her pride for the school, have propelled ECMC to new heights. Of course, the top-notch teachers have done their part as well.
"The educators here are some of the finest in the state," remarked Swanigan. "They are state certified in their area, as well as certified in Montessori theory. They are also Gifted and Talented endorsed, which means our students are exposed to a gifted and talented curriculum 100 percent of the time."
Though ECMC has made the most of its time on a campus nestled in the I'On community of Mount Pleasant, a more comprehensive facility for the thriving student population would include a media center, cafeteria and gym. Fortunately, a solution might be on the horizon, and Swanigan is excited about the opportunity to move ECMC into the former Whitesides Elementary building in the near future.
"We would be able to expand our seats there and enjoy new opportunities," she emphasized. "Because of the success of the school and its reputation, the Charleston County School District is willing to consider this partnership."
CCSD Superintendent Dr. Nancy McGinley spoke favorably about the proposal to move East Cooper Montessori into the Whitesides building.
"ECMC is a leader in the development of the public Montessori school movement," said Dr. McGinley.
"Principal Jody Swanigan has been an outstanding advocate for Montessori education. Without her help, we would have had a harder time expanding Montessori across the district."
Swanigan agreed that the school's performance has helped Montessori gain a favorable reputation within the district.
"It is the success of the school that has put us in the unique position to be able to help District 2 with overcrowding and meet the 2016 goals of having a Montessori option in each quadrant of the district," she said.
For more information about East Cooper Montessori Charter School, visit eastcooper.ccsdschools.com.
Photo courtesy of East Cooper Montessori.
Story by Denise K. James