The Miss America Pageant doesn't take slackers. When Mount Pleasant native Brooke Mosteller earned the Miss South  Carolina crown in 2013, she already had more than a few achievements under her belt, many of them fostered right here in East Cooper during her years at Wando High School. In addition to earning the title of Miss Senior Wando, she also  graduated as salutatorian of her class. She chose the Miss America pageant system as a way to learn more about herself, give back to the community and further her education.
"A lot of people don't realize that the Miss America system is the largest college scholarship organization in the country for women," she pointed out.
After graduating from Wando, Mosteller made the most of her time at Furman University, studying Political Science and planning to continue on to law school. Yet, she said, she "learned more about being a citizen during the pageants than at Furman."
Mosteller has completed her first year at the University of South Carolina School of Law. She interned with Attorney General Alan Wilson last summer, but Mosteller is careful to keep not only her intellect but also her body and spirit engaged. Her talent during last year's Miss South Carolina pageant was singing – she performed "Don't Rain on My Parade," a number made famous by Barbara Streisand in the hit Broadway musical "Funny Girl" – a pastime she has always  loved. She has even sung at the Darlington Raceway.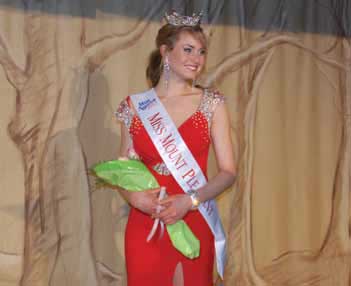 Mosteller played tennis for four solid years at Wando – and helped her team get to the state championship level – and then started running track at Furman. Her mother, Cyndi Campsen Mosteller, described how her daughter "went from tennis to track in just six weeks, once they realized she could run as well!"
And run she did. Mosteller set a Furman record at her first meet and two weeks later went to the Southern Conference  championships at Appalachian State and ran off with the conference title in the 5,000-meter event.
She credits her faith in keeping her humble and thankful for the opportunities she's been given. She remarked how "faith is a big deal for most of the girls in the Miss America system." Naturally, giving back to the community is another  important facet of earning the crown.
"I was an ambassador for the Children's Miracle Network," she explained. "MUSC is a part of that network. My team and I
raised a record-breaking amount for the network. It's such a precious thing to be involved in with this whole process."
As filled with glamour as Mosteller's life might be, she loves nothing more than being in East Cooper for a spell, relaxing with family and reflecting back to her years growing up.
"We lived on the Isle of Palms until I was 14," she commented. "And my family has always loved East Cooper for the beaches, history and beauty."
By Denise K. James
Photo courtesy of Brooke Mosteller