If you've never heard of, thought seriously about or tried fly-fishing, it's time to get into the sport and take a closer look at one of the fastest growing segments of the sport fishing industry.
Slinging string is in.
"In the early 1960s, I decided to bring fly-fishing to the Lowcountry because I thought the idea was a good one," said William Sanderson Stuhr, CEO and chairman of the board of J. Henry Stuhr Funeral Home. "I began fly-fishing with my father when I was about 10 years old and was delighted that it was a bit more than just casting a reel."
Despite many who believe saltwater fly-fishing – using artificial "flies" that look like natural invertebrates instead of live bait – is the latest discovery, it has been around for quite some time. Stuhr shook it up a bit among local saltwater fishermen and introduced what has become a favored pastime to the area.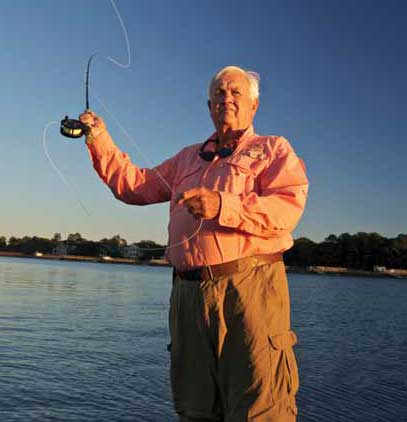 Anglers in New England cast to striped bass, while other anglers have used heavier tackle and full-dressed flies to entice tarpon – which can reach 4 to 8 feet feet long and weigh in at between 60 and 280 pounds – as well as other marine species.
"Throughout the Lowcountry, you can experience some good fishing in the Edisto, Ashepoo and Congaree rivers," said Stuhr, who is often referred to as Captain Stuhr by friends. "Fly-fishing in salt water can produce winter trout and the occasional flounder, croaker, spot tailed bass or channel bass."
Captain Stuhr knows the Lowcountry well and was a fishing guide before giving up his license at the age of 70. His is the fourth generation in a family business that had its beginnings in the Lowcountry in 1865. Today, his grandchildren make up the sixth generation of Stuhrs in the funeral business.
Captain Stuhr is a charter member of the South Carolina Saltwater Sportfishing Association and, having joined the Coastal Conservation Association in 1990, is considered a lifetime member.
"Conservation is important, and the CCA is responsible for making it law that any bass under 15 inches or over 23 inches must be thrown back," he pointed out.
Beginners should remember the old adage to keep it simple.
"Fly-fishing looks easy when someone does it right, but there are techniques a beginner needs to learn," Stuhr explained. "Make sure you are properly equipped and don't rush it. Visit some area marshes as they can yield great catches."
Saltwater fly fishermen can also be found on inshore beaches, salt ponds, rivers that flow into the ocean, near jetties and in flats near the shore.
Stuhr advises fly-fishermen to pay attention to the weather.
"I've seen people get discouraged because they can't cast their lines, when in reality the wind is playing havoc. A lot has to go together to be successful," he said.
Fly-fishing equipment can be a bit expensive, but prices have started to drop. The tackle can be complex or simple, depending on the angler, but the basics include rod, reel, lines, leaders and shooting baskets. It is important to anticipate the habitat in which you will be fishing and the type of fish you want to catch.
Like Captain Stuhr, many people turn to fly-fishing as an outlet from their everyday job.
"I find it relaxing and fun. It is an art that many can enjoy, including young kids. Get out and try it," he said.
Story by Stacy E. Domingo
Photos provided by Stacy Stuhr