During my time with Mount Pleasant Magazine, I've interviewed and crossed paths with many interesting East of the Cooper
residents. I have been dragged down the Isle of Palms beach by a 20-foot kite while learning how to kite board. I drank  beers with some of the coolest oldtimers I've ever met at the Carolina Coast Surf Club. I even rode shotgun in a souped-up  golf cart as the wingman of the "mayor of I'On."
Yet, as I look back at all the remarkable people and their extraordinary stories, one Englishman stands out. Meet 49-year-old mountaineer, writer and Mount Pleasant's most interesting man: Harry Farthing.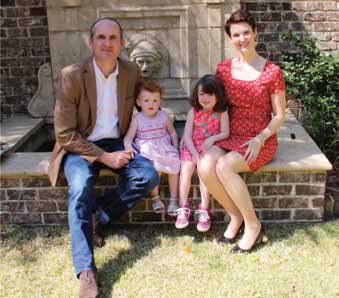 Farthing, who hails from the United Kingdom, is an explorer whose voyages have literally taken him to the furthest corners of the world. A born traveler, Farthing's lust for exploration began at a young age. At just 19, he embarked on an extreme motorcycle adventure – the first of many – from the U.K. to the Moroccan Sahara.
Whether it's climbing Mount Everest, riding from country to country on his BMW motorcycle or winning the title of NBC Universal's "Hottest Dad over 40," I can't think of a better person to be stuck in an airport terminal with than Harry Farthing.
I recently sat down with the former commercial real estate executive turned writer to talk shop. Farthing pulled up to our meeting at Mozzo Deli on Coleman Boulevard on his signature red and black BMW motorcycle.
Our conversation drifted to Farthing's passion for motorcycle journeys, such as his 4,000-mile trip from England to Morocco.
"I had never traveled by myself before, and seeing all the different cultures in Spain, Portugal and eventually Morocco was a wonder. It really set the tone for my later trips," Farthing remembered.
Farthing's passion for mountaineering can be traced back to his childhood days, when he would study books by Chris Bonington, a member of the original British Himalayan expedition. In 1999, Farthing moved to Lake Como in Italy, near the Swiss Alps, which is where Farthing began to fall in love with mountain climbing.
Since the late 1990s, Farthing has become a successful and experienced climber and has challenged and defeated peaks such as Mont Blanc and The Matterhorn in the Alps, Mount McKinley in Alaska, Shishapangma in Tibet, and Mount Kilimanjaro in Africa.
I asked Farthing to describe "Summit," his forthcoming novel. I could feel his passion from across the table as he explained that the fictional story about an adventurous Mount Everest climb existed whether he had climbed Everest or not. Yet the essence and success of the novel hinged on his experiences as a mountaineer and his time spent in the Himalayas.
Farthing's objective with the novel was to remove his readers from their front porch lounge chairs and relocate them to a treacherous, icy cliff in Tibet.
"It's a novel written with firsthand knowledge of what it is actually like to climb above 26,000 feet without the benefit of an oxygen mask – to feel the joy and pain of an ascent of Mount Everest," Farthing explained.
"Pretend you're a book reviewer and you have 15 words or fewer to describe your novel," I prodded.
"'Into Thin Air' meets 'The Da Vinci Code' with a touch of 'Indiana Jones,'" said Farthing confidently
I was beginning to feel like I was 10 years old, and I was interviewing my childhood hero.
"What's the craziest thing that's ever happened to you on a climb?" I asked.
"Probably the first time I entered the death zone without oxygen," said Farthing.
"Whoa, the death zone?" I blurted out, interrupting Farthing.
"Yes. The death zone is over 8,000 meters, where no human body can acclimatize. It's like flying on the wing of a commercial airplane," Farthing continued.
"So what was that like?" I questioned.
"I was on a four-week journey to the summit of Shishapangma in Tibet (8,013 meters). At 8,000+ meters without oxygen, it felt like I was walking through gel. The whole experience was very dream-like," Farthing related.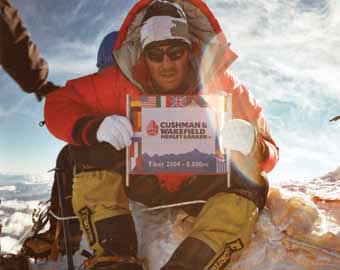 As our conversation fluttered from peak to peak, we landed on the topic of the day: Mount Everest. I asked Farthing just what it was like to reach the highest point of the highest mountain in the world.
"It must have been quite the pinnacle, so to speak, for a mountaineer such as yourself," I punned.
Farthing paused, as if maybe my question took him back to a point on the mother of all mountains.
"Well that's just the irony of the book's title – "Summit"–that I actually never summited Mount Everest. There was a point when I was about 400 meters from the summit and bad weather was rolling in. I thought of my family and made the safe decision to return to camp," Farthing lamented.
"Not summiting Mount Everest hurt me for a few years after the climb. Yet that mountain will stay with me forever and won't fade away like other mountains I've summited," Farthing said.
He seemed at peace with the mountain – almost as if it had taught him a life lesson.
"Will you ever go back?" I had to ask.
"I'd be lying if I said I haven't thought about it. I can never say never," Farthing said.
Find out more about Harry Farthing and his novel, "Summit," at www.harryfarthing.com.
Photos provided by Harry Farthing
Story by Cullen Murray-Kemp