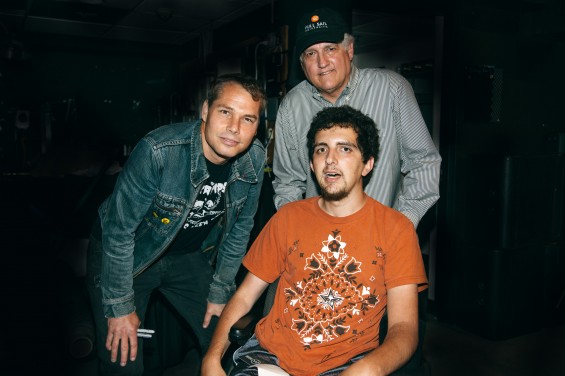 It was a night of conversation between Mark Sloan of the Halsey Institute Of Contemporary Art and home-grown, nationally known artist Shepard Fairey at the Charleston Music Hall. I'm sure it was a special night for the sold out crowd that came to listen to Fairey talk about his roots, his art and how he hopes his art will encourage people to think a little differently.
Few people were more interested in hearing what Fairey had to say than my youngest son, Anthony. It started back in February, when Anthony, my wife, Kim, and I attended the Iron and Wine concert. upcoming Charleston Music Hall events were being shown on the screen, including an evening with Shepard Fairey. Even though it was months away, knowing how much Anthony likes Fairey, Kim jumped into mom mode and, within a few days, had our tickets. Although I wasn't as excited as Anthony, I was curious and wanted to know more about the artist who inspired my son.
Every father wants to be a hero to his children, and I guess I'm no different. So the night I learned Shepard Fairey was going to be at the Charleston Music Hall, I thought about reaching out to him to see if there was any way he would spend a few minutes with Anthony. I knew it was a long shot, but I also knew that it would mean so much to Anthony.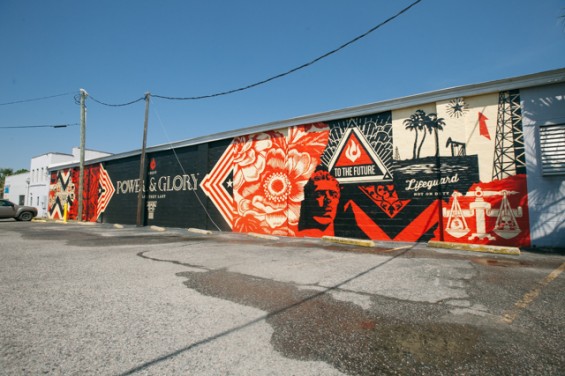 I did not know Shepard Fairey, but I did know that his time was precious. Think about it: Day after day, he'd been spending time in the hot sun doing street art, in some cases hundreds of feet in the air. And he also was preparing for a show at the Halsey Institute. With all this going on, why would he want to spend his time meeting Anthony?
After discussing the idea with a couple of people at the magazine, I thought the best thing to do was to reach out to Fairey's public relations manager, Victoria Yarnish, in Los Angeles. She knew Cullen Murray-Kemp from working with him on a recent article we published. I wrote an email to Victoria and sent it to Cullen, asking him to broach the idea. In my introduction, I mentioned that the artist's father, Dr. Strait Fairey, had been Anthony's pediatrician and was there the day Anthony was born. I mentioned how much Anthony admired Fairey's work. I spoke about Anthony's bicycle accident in San Francisco in February of 2013, which resulted in a brain injury.
Anthony has some of Fairey's art hanging in his bedroom, so we took a picture of him in front of the artwork so Victoria could see she was communicating with a sincere person who truly appreciated Fairey's art.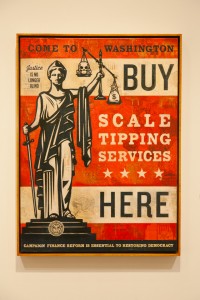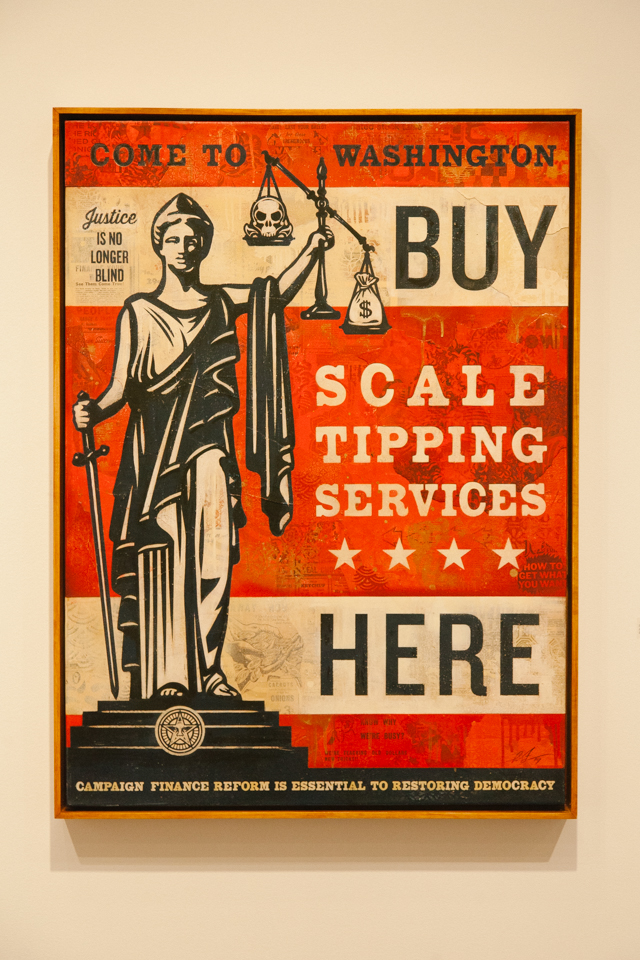 I didn't know if I should even mention my efforts to Anthony, but when I get excited about something, my excitement seeps out. Although I had no idea if Fairey would agree to meet Anthony, I shared the news with my son. I had set myself up. I could easily go from hero to zero. I had to somehow make this meeting work.
I couldn't believe that within a few days, I was exchanging emails with Victoria. She asked if Anthony was going to attend any of Fairey's events. I told her we had purchased tickets back in February for the Charleston Music Hall in May, and I was ecstatic when she informed me that we would have the opportunity to meet with Fairey at this event.
Before we headed to the Charleston Music Hall the night of Shepard Fairey's conversation with Mark Sloan, I printed out Victoria's email explaining how she would inform Fairey's team that Anthony would be attending the show. Earlier in the day, I called the hall to see if back stage was wheelchair friendly. Charles Carmody, who manages the building, answered the phone and told me there was
only one step leading back stage from the outside of the building. He assured me it shouldn't be a challenge.
When we arrived, Charles escorted us to our seats. I didn't know if Fairey's people had said anything, but I wanted to make sure Charles knew. I was pleasantly surprised when he informed me he was aware of the time we were supposed to spend with Fairey and that we would be able to get together after the show. At this point it was obvious that Victoria had done a good job communicating with the rest of Fairey's team.
Knowing Anthony was actually going to meet Fairey reduced my anxiety, and, when Mark Sloan took the stage, my mind was freed up to take it all in. Although I had heard Anthony talk about Shepard Fairey, and I had seen his art, I really didn't know the man behind the art. This evening gave me an opportunity to really get to know this artist my son seems to idolize.
Possibly one of the world's best known street artists, Shepard Fairey's message is thought-provoking and bold. No matter what your opinion of his art, he has a clear message that could transform the world as we know it today if we would practice the fundamental core of that message. Fairey is definitely impacting the world we live in, one painting at a time. As I listened, I began to realize his art is only the beginning.
As the show headed to a close, Fairey took questions from the audience. His answers espoused a message of people finding their voice so society will be stronger, creating images that ignite people's thoughts about the world around them and achieving individual goals by stepping out of your comfort zone. As the closing approached, my thoughts started drifting back to Anthony and the famous artist meeting for the first time.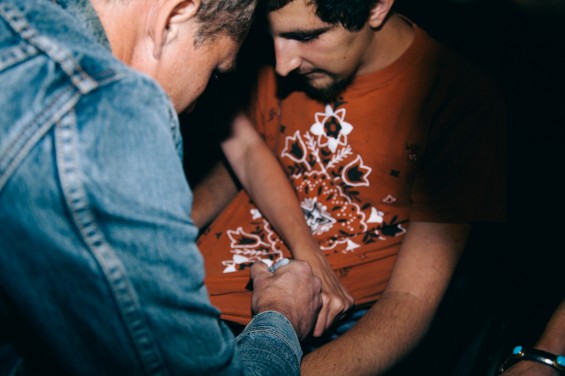 As the hall begin to empty, our anticipation heightened as I pushed Anthony's wheelchair up the ramp. Kim and I were so excited for him. As we waited back stage, we could see the twinkle in his eyes become brighter and the smile on his face broaden. We were standing around chatting, trying to get rid of our nervous energy. Then Shepard Fairey appeared. Right away, Anthony shook his hand
and Fairey started asking him questions. Where did your bicycle accident happen? Where did you go to school? Are you still designing? It was so rewarding seeing my son talking to a person he looks up to and seeing that person caring enough not only to spend some time with him but to actually try to get to know him.
As I stood there basking in Anthony's moment, Dr. Strait and Charlotte Fairey walked up. The interaction between Anthony and Dr. Fairey was instant, even though they had not seen each other in years. As the conversation between Dr. Fairey's son and my son progressed, I took out a black and white drawing on a white sticker of Anthony and showed it to Fairey. I told him that shortly after Anthony's accident, I wanted to print something we could give to people or stick in strategic locations. I knew Anthony loved Fairey's work, so the inspiration for the sticker came from Andre The Giant. I told him I knew he wanted people to think and be inspired when they view his art and how I thought this would be something that would help Anthony through his recovery. As I told our story, I could see by the look in Fairey's eyes that it clearly touched him. Listening to his words throughout the evening, you could tell he cares passionately about his art and works hard to make sure it touches people in such a way that they might think differently.
It was also obvious that Shepard Fairey cares deeply about his own children. When Anthony asked about them, Fairey's voice raised slightly, and you could see he was getting excited as he told us how his 8-year-old daughter told him she wanted a skateboard rather than a bike.
As gracious and welcoming as Fairey and his staff were, I was sure Dr. Strait and Charlotte Fairey were looking forward to spending some time with their son. As Anthony, Kim and I were leaving, we thanked everyone for their hospitality. As we headed down the ramp, we knew we had made memories we would not forget and met someone who was not only special to Anthony, his family and friends but also to the thousands of people who admire his art and the message behind it.
We fathers are fortunate to become heroes of all different kinds to our children, and I never fathomed that I would be the one to introduce Anthony to one of his inspirations in the art world. I realized that evening that, in a way, Shepard Fairey had become my hero as well – thanks to his compassion and willingness to connect with Anthony.