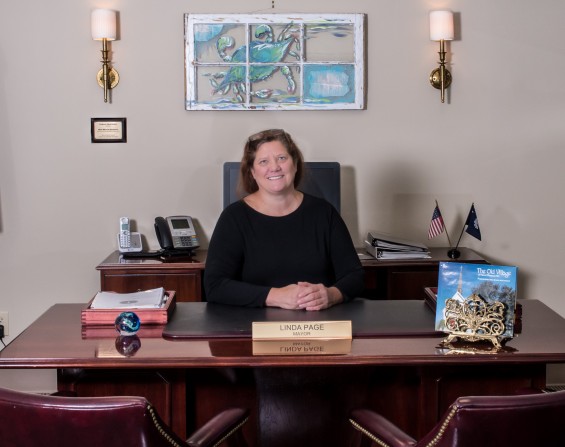 Linda Page doesn't mind an honest debate, a good argument or even a heated discussion. As the mayor of the ninth fastest growing municipality in South Carolina and a longtime business owner, she's had to serve as somewhat of a referee, nurturing compromise between those who want to control but encourage the town's incredible rate of development and those who still see Mount Pleasant as tree-lined country roads and rustic Shem Creek rather than two-lane roundabouts and modern apartment complexes.
What does rankle Page just a tad is people who disagree with the direction Mount Pleasant's leaders are moving but avoid engaging in conversations that lead to meaningful solutions. In a town that has grown from a sleepy little village of fewer than 2,000 people in 1950 to a booming metropolis of approximately 75,000 today, compromise is the key to controlling growth without affecting the quality of life that has lured so many people to Mount Pleasant in the past six-and-a-half decades.
"I don't mind naysayers," said Page, who marked her first year in office on Nov. 12. "I see their point. They don't want the character of our town gone. What I do mind is when they are not willing to talk about other options. We can agree to disagree. I can defend my beliefs and they can do the same thing."
And although her job as mayor is officially a "part-time" gig, she has no problem at all if local residents call her on her cellphone and let her know what they're thinking about any subject having to do with the place she has called home for most of her 55 years.
Page, a Mount Pleasant resident since she was 6 weeks old – a year later, the Census put the population of the town at 5,116 – admitted that change can be a difficult pill to swallow, especially for people who have fond recollections of Mount Pleasant as no more than a brief stop for motorists headed in and out of Charleston along Highway 17. As a member of the town council for four years and as mayor for one, she was not 100 percent behind plans to develop Coleman Boulevard as Mount Pleasant's main street. But with work on another major phase of the project about to begin, she has embraced the plan as a necessary way to secure Mount Pleasant's future.
There's more to serving as mayor of Mount Pleasant than keeping the peace at Council meetings, and there are more issues to deal with than Coleman Boulevard, from recreation to trees to taxes. The owner of Page's Thieves Market since she bought it from her parents in 1981, Page spends her days meeting with local organizations and individuals, attending ribbon cutting ceremonies for new businesses, making speeches and collaborating with the mayors of Charleston, North Charleston, the Isle of Palms and Sullivan's Island. In between, she strives to keep her own business up and running.
"Sometimes at the end of the day I have to look at my calendar to remember who I talked with that day," she said. "It's hard to consider it part-time work."
She added that the part-time salary that goes along with being mayor of Mount Pleasant limits the range of people who would be interested in tackling what amounts to a full-time position. She agreed that the job should pay more but stopped short of saying that the town should have a full-time mayor. She pointed out that the municipality's day-to-day operations are handled capably by Town Administrator Eric DeMoura.
Though Page described her first year as mayor of Mount Pleasant as "awesome," she did note that she has faced a few issues related to her business, her wardrobe and her eating habits. She said she now is less likely to don jeans, a T-shirt and tennis shoes to go grocery shopping.
"My job is a dirty job," she said, referring to Page's Thieves Market, not to the mayor's position. "And I'm not a clothes horse. Shopping is a challenge for me. Before I ran for mayor, I was involved in the International Auctioneer Championship, so I bought two good suits. But I've kind of worn them out."
She added that because her schedule is so tight, meals also can be a challenge.
"It's hard to eat a salad in the car," she joked. "On a lot of days I don't have time to sit and eat a proper lunch."
So besides racing from event to event and meeting to meeting and eating on the run, what's in store for Mayor Linda Page and the town of Mount Pleasant during the next three years of her current term? She said she will concentrate on bringing "true economic development" to Mount Pleasant, which means attracting more businesses and professionals.
"I want a community where everyone has the opportunity I have: to work close to home," she said. "It means more than just hospitality and tourism jobs."
She added that she hopes to do more for senior citizens, the area's fastest growing demographic, and to convince the Charleston County School District that, with the population of East Cooper booming, another high school and another middle school are necessary. And then there are Mount Pleasant's roads, a major topic of discussion, especially during the morning and evening rush hours. The mayor said three major projects are in the works: Hungryneck Boulevard will be extended north, first to Hamlin Road and then to Porchers Bluff; a road will connect Rifle Range to Hungryneck; and Long Point Road will be realigned for safety reasons where it meets Highway 17 and Old Georgetown Road.
"Traffic has to do with quality of life," Page said. "If there's a lot of traffic, businesses won't come here. Everything that improves the flow of traffic makes this a better place to live."
In Linda Page's mind, there is no better place to live than Mount Pleasant, South Carolina. She said serving as mayor for a year has only enhanced her image of the town and the people who live here.
"I have a better understanding of how diverse the people of Mount Pleasant are and a better understanding of their talent," she commented. "The people who live her have run companies, written books and produced movies. People make the place."
Page said she hopes to retire from her business, which her two children help run, in about four years, though she wouldn't say exactly how long she would like to remain in politics. She did point out that she would someday like to write a novel and possibly a children's book about how animals are a lot like humans. A possible protagonist will be a narcissistic goose her family once owned. The bird was in love with its own reflection, going as far as to attack cars with shiny hubcaps.
For now, she will be content with her packed calendar and balancing her responsibilities as business owner and mayor. Among her more interesting duties was a recent meeting with businessman and former presidential candidate Ross Perot, who was in Mount Pleasant to kick off fundraising efforts for the National Medal of Honor Museum at Patriots Point. She said Perot called her later from his cellphone, but, because he has Secret Service protection, she was unable to save his number on her phone. Regrettably, she won't be able to call him back.
However, if you live in Mount Pleasant, you can get in touch with your mayor any time you want to. Give her a call on her cellphone if you'd like to voice your opinion on just about any topic having to do with Mount Pleasant, from the two-lane roundabout that will be built where Ben Sawyer, Coleman and Chuck Dawley boulevards meet to the allowable height of buildings at Sea Island Shopping Center and Moultrie Plaza. That number is 843-729-5406. She'll be glad to hear from you.
Story by Brian Sherman. 
Photo by Ronnie Martinelli/BellaGio Photography