Pets come in many sizes, shapes, breeds and personalities, something that can be said for their owners as well. People choose pets for many reasons, but sometimes pets choose their people. Regardless, the bond shared between a pet and its owner develops over time and rarely is broken.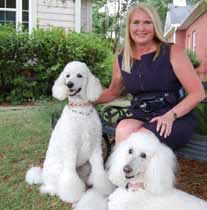 Paige Pollock, Realtor – Carolina One Real Estate: Pollock has spent a lifetime with poodles and today she owns a 12-and-a-half-year-old named Eliza and a comical 2-year-old named Bridgette.
"My very first dog was a poodle who acted as my babysitter. My mother said if I started to go down the hill near our home, the dog would grab hold of my diaper and pull me back up," she said.
Standard poodles were originally used for duck hunting and are from Germany, but French women found them so intelligent and such good company that they became companions. Today, miniature poodles have become fashion accessories that happen to be pets.
"Poodles are intelligent, so it is easy for them to adjust to many owners or a family unit. They understand who provides for them and will adjust to fit into their mold," Pollock explained.
Anthony Recine, recent University of South Carolina graduate: Recine is the proud owner of a female Siberian red coat husky named Athena. This goddess truly captured her owner's heart the moment he saw her at an animal rescue in Columbia, South Carolina.
"All of my friends had a dog, and my roommate and I decided we wanted one, too. We went to the rescue and found Athena. We fell in love with her," he commented.
When Recine first adopted Athena, she was underweight but enthusiastic.
"She would jump through open windows while taking out the screen," Recine said. "She would run away a lot, but we got that under control by giving her a lot of attention and taking her for frequent walks."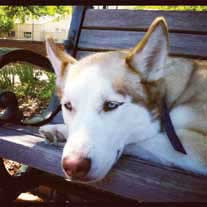 Athena, also known as the Trash Bandit, has adapted to the move from college back home to Mount Pleasant.
"She has a crush on one of my mother's cats. She follows it around and has become friends," said Recine. "Athena has definitely become part of the entire family."
In addition to adapting to an extended family of pets and people, Athena has discovered her true Southern huskiness by taking a liking to sunbathing.
"At 4 years old now, she has calmed quite a bit, but she still likes going for those walks," said Recine, who recommended finding your pet at a shelter.
"When we went, Athena wasn't the only husky there. At shelters you can usually find the pet you want and save an animal at the same time," he concluded.
Dr. Cara Daniel, owner – Tidewater Veterinary: Tidewater Veterinary is located just off the Isle of Palms Connector and treats patients from all of the nearby islands.
"We see a lot of patients that are named by location," Dr. Daniel pointed out. "We have a few Sullys and Sullivans that are named for Sullivan's Island."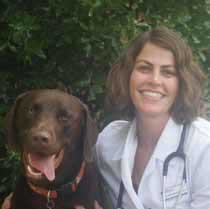 At the young age of 9, Dr. Daniel was the proud owner of a dog and three cats. Today she and her husband have welcomed a dog and cat into their family.
"Both our dog and cat are part of our family, but our dog, Tucker, has definitely bonded more with our son. The two are the typical image of a boy and his dog. They are always clowning around and having fun," said Dr. Daniel. "Our cat, Penny Lane, favors our daughter, and the two are almost always together."
Dr. Daniel witnesses a lot of relationships between pets and their owners and knows that the bond is strong.
"Certainly people go out and find their pets, but sometimes a pet will find their people. I believe this is the case with our chocolate Labrador Tucker. He had a heart defect, and, because of my position, I was able to recognize this and treat it accordingly, otherwise it may not have been done," she explained.
"Companionship, unconditional love and entertainment, such as we get with Tucker, are all reasons people choose to adopt a pet," Dr. Daniel concluded. "Cat owners like to have an animal they can pet regularly, but owners have even allowed large dogs like Great Danes become lap dogs. There are various reasons an owner chooses a certain pet. I've even witnessed people adopting a dog for their dog. A pet for a pet, so to speak."
Linda Page, Mayor – town of Mount Pleasant and owner – Page's Thieves Market: "A few years ago, my beloved dog crossed the rainbow bridge, and I never thought I would get another pet," said Page. "I missed him terribly, but I have a grand-dog that I absolutely loved to the point my son said I was coveting his pet."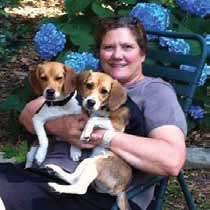 Through not-so-subtle encouragement from her son, she agreed to take a look at two beagle puppies.
"Well, the puppies were the cutest things. One was really sweet and one was a terror, so I decided they had to stay together because as a unit they made the perfect dog," she said.
Dixie and Dazey now travel regularly to work with Page and her daughter.
"They have visited Town Hall a few times, but they cause too much of a distraction for most everyone, so normally they are at the market with me," the mayor explained
So while Page didn't believe she could let a new pet into her life, she has since committed to two.
"My schedule is hectic, but these two girls give me companionship," Page remarked.
Ann Pape, Fifth grade teacher – Belle Hall Elementary School: Ann Pape started teaching in 1977 and moved to Belle Hall Elementary in 1998 where she has been teaching fifth grade ever since. Her daughter, Laura Pape, who was once her mother's student, attests that she "is the most passionate teacher."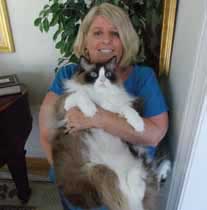 While nurturing her students and her own family, Ann Pape also keeps company with Jameson Blue Jackson Pape – or J.J. for short – who is a member of the ragdoll cat breed.
"I grew up on a farm and can only go so long without a cat," said Pape. "When I got J.J., we drove up to Columbia to look at him, and I realized immediately I wanted him to be my cat."
Pape lets J.J. visit her classroom from time to time to let her students get to know a more personal side of her life. She commented that it's "important for her students to see her as a human being, not just a teacher." Plus, J.J. loves the attention.
"He has a lot of dog qualities," she said with a chuckle. "He greets us at the door when we get home; he follows us around the house; he wakes us in the morning if we aren't out of bed."
Brittany Marrazzo, owner of Paws in Paradise in Mount Pleasant: "Subconsciously, a person typically picks a dog that is similar in personality, but a person won't bond with every single dog, so they must choose wisely," said Marrazzo. "A pet is another member of an owner's family, and, in many instances, it is their child. They form a bond and have unconventional love. A pet looks up to their owner."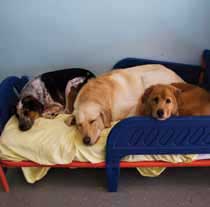 This is especially true if you are choosing a pet that will join a family with young children, the elderly or if you are choosing a service pet.
"We take all breeds and sizes," explained Marrazzo. "It is fun to watch the animals come through Paws in Paradise, as the dogs are usually excited to be dropped off and are excited to go when they see their owner come through that door."
Michelle Cieslak, owner of Pleasant Paws Dayspa in Mount Pleasant: A pet's excitement when it sees its owner is the heart of a one-of-a-kind bond that Cieslak sees every day.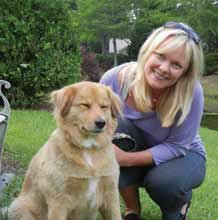 "I believe pets and owners have similar looks and personality. It is very interesting for us to observe. However, I do feel that whatever type of energy the owner has will transfer to the pet. Hence, they have a similar personality."
Cieslak knew at a young age that she wanted animals to be part of her everyday life. She started dog-sitting and walking dogs at the age of 7. She said love, friendship and companionship are all emotions pets and their owners experience.
"What's interesting is how these roles are interchangeable depending on the situation," Cieslak explained. "When people adopt a pet, they are taking on the responsibility for all of the pet's needs."
On the flip side, a pet can quickly become an emotional outlet for the owner, or, in the case of service canines, the animal is attuned to all of the owner's needs.
As temporary caregivers at Pleasant Paws Dayspa, the staff is often the first to notice important issues.
"Grooming is a hands-on experience. We sometimes notice skin and health issues. At the end of the day, though, we are here to pamper your pets and make sure they go home looking and feeling their best," Cieslak said.
Photos provided by pet owners
Story by Stacy E. Domingo